Murray Hearne was 18 when a foiled drug deal with off-duty police saw him stab two police officers in Sydney, killing one and critically injuring the other.
Constable Peter Forsyth was a father-of-two, a much-loved husband and well-respected police officer.
On that fatal night in 1998, Hearne took a knife to Forsyth's heart, stabbing him twice and ending his life in the most violent manner.
Forsyth was walking home from after-work drinks, was unarmed and went to arrest Hearne upon being offered ecstasy from the then teenager.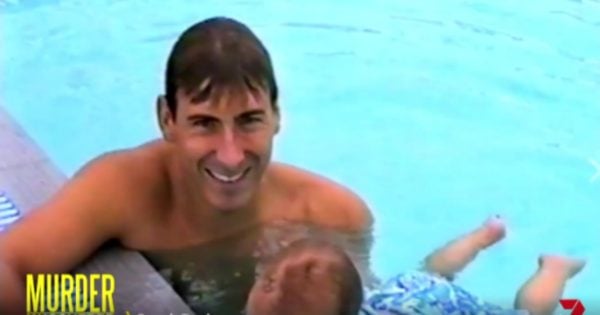 He did not come out of the scuffle alive. But today, Hearne walks free.
In revelations set to air on tonight's Murder Uncovered on Channel 7, Hearne spent 16 years in jail for the Sydney police officer's murder before walking free in March 2014. He was released nine years early, after an initial sentence of 27 years was reduced on appeal.
While behind bars, Hearne engaged in a romantic affair with his prison psychologist, Bobbie Bergmeier. The pair now live in Wagga Wagga and have a baby together.
Charlie Bezzina knows what crime looks like. He talks to Meshel Laurie about what it takes to be a criminal investigator. (Post continues after audio.)
Forsyth's two children, Mitchell and Brodie — who have been without their father for 19 years — have no desire to have anything to do with their father's killer, nor are they interested in thinking about him.
Mitchell, 22, told the program he would not utter a word to his father's murderer if given the chance.
"What would I say to him? Nothing. I wouldn't give him a second of my life," he said.
As for 20-year-old Brodie, she feels a deep loss for a man and father she never knew.
"I feel like I know so much about Mum. I can tell when I walk in if she's had a good day or a bad day, she doesn't need to tell me," she says.
"And then I don't know one thing about Dad. I don't know how he carries himself. I don't know his sense of humour.
"The little things you should know about your dad - I don't know those."
Forsyth's widow and the mother of his two children, Jackie Reimer, tells of how she feels "physical pain" when she watches old videos of him with their children.
"It hurts in my chest. It's a real pain, it's not just a feeling," she tells the program.
It's this deep sense of loss and grief that led her to look her husband's killer in the eye in the pursuit of answers. One answer in particular: Why? 
"He was very nervous ... hyperventilating. Shaking. Sweating," she says of their meeting.
"I looked at the person he was now, years later. He was not some thoughtless kid anymore."
Hearne wanted her forgiveness, her blessing. She did not give it.
"I think so, that's his problem. Not mine," Reimer says.
Murder Uncovered will air on Channel 7 at 9pm.