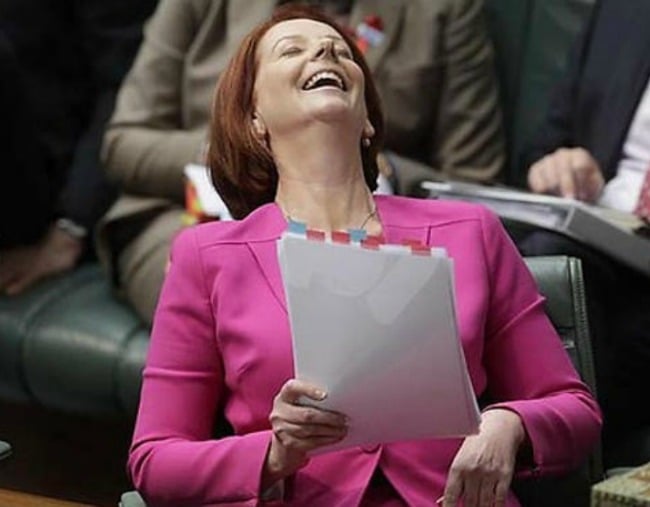 By the end of tomorrow, Australia may have a potato for prime minister, and precisely no one is okay.
After contesting Malcolm Turnbull in a failed leadership challenge on Tuesday, Minister for Home Affairs, Immigration and Border Protection, Lord Voldemort Peter Dutton announced on Wednesday he would be challenging Turnbull again.
Then, on Thursday morning, key cabinet ministers Mathias Cormann, Mitch Fifield and Michaelia Cash said they will back Dutton in a leadership spill.
While Australians rummage through their belongings, locate their passports, and pack up their homes in preparation for their mass exodus to New Zealand, they've also shared their thoughts on Twitter about WTF just went down in parliament.
Brexit: Unbelievable
Trump: Inexplicable
Australia: Hold my beer#LibSpill3

— DojoBuff (@DojoBuff) August 22, 2018
It'll be good to have a steady hand on the wheel. #libspill3 pic.twitter.com/kriaHYEgyO

— Scott Dooley (@scottdools) August 22, 2018
All of Australia to @PeterDutton_MP rn #auspol #LibSpill3 pic.twitter.com/l0FTajnbEn

— Sosan Rahimi (@sosanrahimi) August 22, 2018
Actual footage of @PeterDutton_MP trying to smile. #libspill #LibSpill3 #LibSpill3TheSearchForSpud pic.twitter.com/q0wkYInXRT

— Simon Kennedy (@Simon_Kennedy) August 22, 2018
#libspill3 exclusive footage from inside the Liberal Party Headquarters… pic.twitter.com/ZofOgB55RY

— TechScaper (@Techscaper) August 22, 2018
"Dutton to soften his image before challenging again."

That's weird, I thought the election was due before the next millennium ends?#libspill3#auspol pic.twitter.com/9vn21nuZPL

— Emperor God Goughlam (@leftocentre) August 21, 2018
The Liberals only think Peter Dutton is the best person to lead it to the next election because they don't have this star candidate…#libspill3 pic.twitter.com/wgUWJc8W1a

— John Johnsonson (@JohnJohnsonson) August 23, 2018
I, for one, welcome our new potato overlord#auspol #Libspill #Libspill2 #Libspill3

— Jules Faber (@Julesthe4rd) August 23, 2018
Do you think Peter Dutton unzips his skin at night before laying down in his nest, or is it more a natural shedding that occurs when there's a full moon? #auspol

— Clementine Ford (@clementine_ford) August 22, 2018
I'll just leave this here…you're welcome! #auspol pic.twitter.com/eJ9FRYwbvc

— VickiAbby (@VickiAbby) August 22, 2018
It will be a very dark day in Australian history if Lord Voldemort becomes PM #auspol pic.twitter.com/kcRWPerT8K

— fred sparrow (@HailMarxism) August 23, 2018
BREAKING: A wet cardboard box in Parliament House has just announced it will be running as a consensus candidate on a platform of being a more charismatic third option #libspill3

— The Shovel (@TheShovel) August 23, 2018
To be fair, owning a childcare centre is one of the nicer things Peter Dutton has done in relation to kids.#libspill3

— John Johnsonson (@JohnJohnsonson) August 22, 2018
I propose we dissolve our current system of government in favour of the then-caricature-but-now-actually-more-sensible portrayal of our nation suggested by the prescient American animated comedy, The Simpsons. #libspill3 pic.twitter.com/C56Atu1UUw

— Adam Liaw (@adamliaw) August 23, 2018
Live Scenes From Canberra #libspill3 pic.twitter.com/rjDPJiHURR

— NedsAU (@NedsAus) August 23, 2018
So, just to recap:

– We do not have a Prime Minister right now.

– We do not have a functioning government.

– And they want to shut down Parliament for 2 weeks.#auspol #Libspill3 pic.twitter.com/NJW4hAdBdT

— BRENDAN ©ASEY (@BrendoCasey) August 23, 2018
Don't know what's happening in Canberra? Mamamia Out Loud speaks to the woman who broke the #libspill story, Sharri Markson….