Nia Ellis has barely any recollection of the first four years of her daughter's life. What she does remember, she'd rather forget.
The delivery was traumatic. Harriet was breech, and Nia went into shock immediately after giving birth via caesarean. A migrant from Wales who had found a new life and a new relationship in Melbourne, she couldn't turn to her own family for support, they were too far away. Her C-section scar became infected. Her baby – lactose intolerant and with dislocated hips – was wretchedly unhappy. Nia's partner Michael tried to support her, "but as I wasn't admitting I needed help, it was a little tricky".
It was a reality far removed from the idyllic soft-focus motherhood portrayed in television ads for baby food and nappies. Harriet "didn't sleep for about four years," Nia recalls.  "It was hideous."
She fell into a deep depression. Along came her second baby, Gus. His delivery was mercifully free of drama, and he was soon sleeping through the night. But Nia knew something wasn't right.
"I still felt like crap." She spoke to her doctor and was prescribed medication for depression. Her mental state dramatically improved, and so too did her connection to her growing family. Her great regret is that help came so late, and she missed out on so much. Her first years of motherhood were "so horrific – I've sort of shut that down".
Stories like Nia's are seldom spoken of, especially in such raw terms, but they are far from rare, says Dr Nicole Highet, a maternal mental health specialist and founder of the not-for-profit Centre of Perinatal Excellence (COPE).
Women are more likely to experience mental health problems during pregnancy and early motherhood than at any other time in their lives, Highet says. Their distress is still too often overlooked by health professionals, or dismissed by family and friends as "baby blues", but the consequences of conditions like post-natal depression and perinatal anxiety can be shattering. This is the core message of Perinatal Depression and Anxiety Awareness Week, starting 12 November.
An expert obstetrics clinical committee told the Federal Government last year that suicide had become one of the leading causes of maternal death in Australia.. When late maternal deaths – those that occur within 12 months of a pregnancy – are also included, it is the leading cause.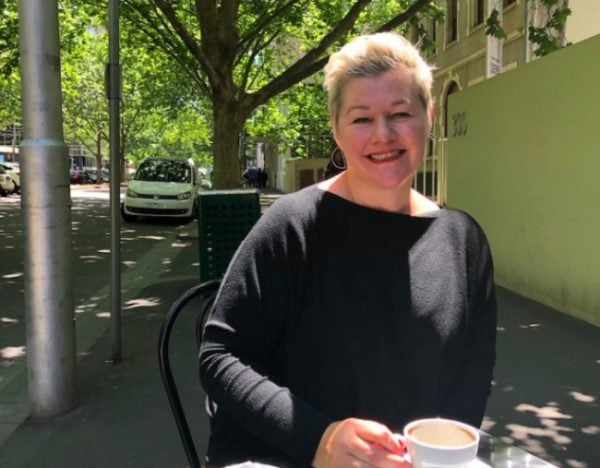 Because Australia has one of the lowest maternal death rates in the world, the toll is low – analysis by the Australian Institute of Health and Welfare identified a total 105 maternal deaths in Australia between 2008 and 2012, 16 due to psychosocial causes, 12 of them suicides. But these deaths sit at the extreme end of a spectrum of perinatal mental health issues – conditions that occur during or soon after pregnancy - that that touch around 100,000 Australian families a year.
Many sufferers struggle through under the radar, though this can take a terrible toll on their relationships with their babies and partners, and on their own health well into the future, says Highet. Her organisation recently surveyed over 1000 women with perinatal anxiety and depression. "Seventy-four per cent of women don't get help until they reach the point where they can't cope. We've got to change that statistic.
"[Mothers] are always viewing everything in the context of being pregnant or being a new mum, so every time they have a possible sign or symptom, they keep thinking, 'oh, it must be part of the pregnancy, it must be hormones'." Social and personal expectations around women's experience of motherhood, and shame about perceived failures to meet those, stop them asking for help.
Highet has developed an email resource targeted at expectant and new mothers, the "Ready to COPE" guide, which is now being further developed with Federal Government support. The guide provides wholistic support to women throughout their pregnancy and the early stages of their baby's life, covering topics from body image and changing relationships, to emotional issues related to feeding and managing pushy advice. To help women be alert for, and recognise, mental health issues early, it provides checklists of feelings that deserve further investigation - a consistently low mood, apathy towards life, a loss of confidence persisting for more than two weeks after delivery.
Listen: Psychologist Kirsten Bouse talks post-natal depression.
Highet, previously the deputy chief executive of the mental health organization BeyondBlue, began work on the guide four years ago after identifying a gap in the resources available to pregnant women and new mothers. "Traditionally people have used pamphlets and booklets, giving women pieces of paper with information," she says. But these were likely to have been lost or forgotten by the time they were needed. "We thought there must be a more sustainable way to do this."
Women in any stage of the perinatal journey – from the earliest point of their pregnancy to up to a year after their baby is born – can log onto the COPE website and sign up. Every fortnight they will receive an email with information about common emotional challenges corresponding to their stage of pregnancy. After the birth, the emails arrive every week for the first eight weeks.
All the material supplied by the guide is supported by new National Mental Health Clinical Guideline, which COPE helped develop, and which have been distributed to health professionals.
Highet says her ambition for the guide is to empower women, their partners and professional carers to identify and respond to danger signs early, and to tackle issues of blame and stigma. "It's all about acknowledging that it can be a really challenging time."
"It's not your fault, it's not a reflection of you as a person or mother, but the best thing you can do for you and your baby is identifying and getting on to things early."
She's hopeful that the messages will filter into the wider community, and encourage more thoughtful and honest recognition of the challenges of motherhood. "All the images [mothers] see by advertisers are of this absolute beautiful bliss, and that starts women to develop all these expectations of what it's going to be like."
Canberra's $1.38 million contribution to the development of the guide - announced last month - will be used to translate it into 10 languages, and to adapt it to the needs of Aboriginal and Torres Strait Islander women. Meanwhile COPE is investigating stressors within particular demographic and cultural groups, and these will ultimately be integrated into the guide.
Nia Ellis says that the outreach provided through the guide could have made a profound difference to her experience of motherhood. "My maternal health nurse gave me a questionnaire after I had my daughter, and I lied on it. I thought I was the only person out there who was having these ridiculous feelings, that I was inadequate."
Even when she did find the courage to speak to her maternal health nurse about her feelings, these were brushed off. "She kept saying it'll pass, it's just baby blues." Now 11 years down the track, when Nia recalls the damaging blur of those early years of motherhood "it still makes me cry".
Perinatal anxiety and depression can be deeply damaging - even fatal. A new email resource provides pregnant women and new mums with expert emotional support throughout the rollercoaster of the maternal journey.
For further information, go to the COPE website. For information on signs and symptoms of antenatal and postnatal mental health issue, go to PANDA, or call 1300 726306.
This story is co-published with The Citizen.