By ALEXIS CAREY
If you're anything like me, Victoria Secret's recent "Perfect Body" campaign left you livid.
If you need a refresher, here it is again – in all its patronising, body shaming, confidence-crushing glory: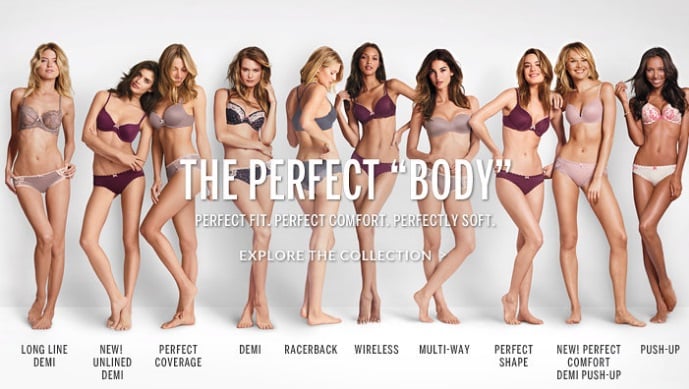 Because of course there is only one type of 'perfect' and it's tall, thin, toned, thigh-gapped and also photo-shopped for good measure.
Now, we all know Victoria's Secret is a brand that is pretty cray-cray at the best of times. Besides the whole angel obsession, they are notorious for their airbrushing and photoshop disasters. And then there was that time they dressed a model as a bicycle… (not a euphemism, she had handlebars and everything).
But this? This ad took it to a whole new level.
It ticked off people right across the globe who are (understandably) worried about the message it sends to women and girls – one that glorifies so-called "perfection" and striving towards an unhealthy "ideal" of thinness. The message is one of conformity; a single ideal of beauty. One that for many women is not only unattainable but could, quite simply, be physically dangerous.
Naturally, social media went into meltdown and tens of thousands of people have already signed a petition to have the Victoria's Secret advertisement changed. But while signing petitions and taking the fight to social media is admirable, British fashion brand JD Williams has responded to the dodgy ad in the very best way possible – with positivity, rather than negativity.