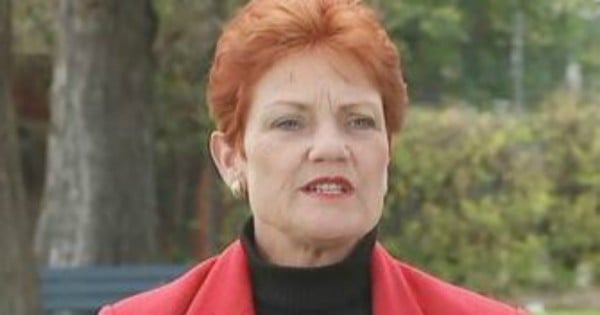 I grew up in Brisbane, not an hour's drive from the fish-and-chip shop made famous by Pauline Hanson. I haven't lived in Queensland since a week after my 18th birthday, but it's still a huge part of me.
There are lots of things I love about my home state. I love that shoes are optional when you have to go to the shops. I love how much we enjoy eating pineapple in savoury settings. I love winning the State of Origin pretty much every year (this year we won the series on my birthday, so thanks Queensland).
But I don't love Pauline Hanson. To me, she is the worst of our fears and idiosyncrasies and bravado and bluster all rolled into one.
She is a person who can in one breath talk about the Australian way of life, and then in the next completely ignore the fundamental idea of religious tolerance upon which our society and institutions are built.
Watch Pauline Hanson discuss Islam in her press conference. Post continues after video. 

At a press conference earlier today, Hanson got very cranky. She objected to reporters asking questions about her policies and said: "You're standing here having a go at me because I stand up for my culture, my way of life and my country."
Here's the thing though, Australian culture is so much more than Australian flags at school assemblies, and fear. Every time Hanson spouts a new piece of nonsense, she does two things.
She gives voice to fear, and she encourages division and hate.
We cannot dismiss the people who voted One Nation as ignorant or bigoted. What they are is afraid. Fear and insecurity breed the kind of hatred we've heard from Hanson in the last few days.
"When I was growing up," she said today, "everyone had a job".