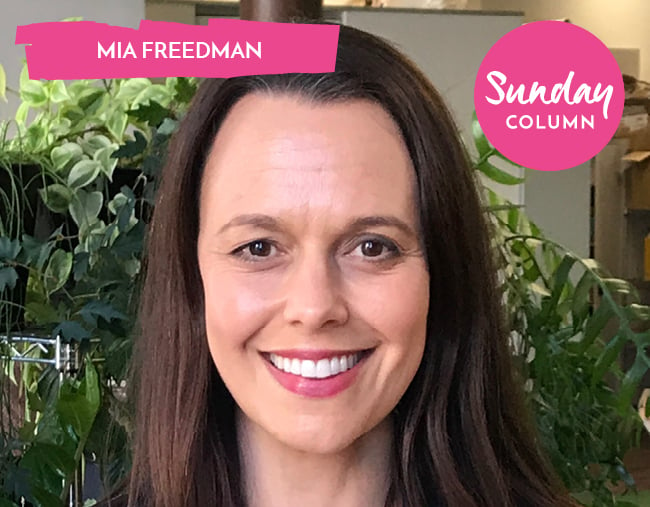 My son's second birthday happened without me. If he had been my first child, this would have gutted me. Because nobody imagines they will ever miss important moments in the lives of people you love, especially ones who came out of your vagina (or sunroof).
But Remy is my third child and by the time you get to number three, you are more sanguine. Your expectations for life going the way you'd planned are considerably lower. You've marinated in reality enough to know that the universe gives no f**ks about your plans.
In the days before my son's birthday, after months of begging, I'd finally been granted an interview with then Prime Minister Julia Gillard. It was during the 2010 election campaign and the only available time she could sit down with me was during a flight she was taking from Melbourne to Sydney that was leaving at 7am. If I wanted to talk to her, I had to be on that plane. This meant I had to fly interstate the night before and my son would wake up without me on the day he turned two.
Kids have no clue what a birthday is when they turn one. It's not until number two that they work out it means something – cake, attention and new toys. Do you remember your second birthday? If you do, it's probably because you've seen photos of it and created a memory. You don't really. That's what I kept telling myself when it became clear I wouldn't be there for my son. I won't pretend I didn't feel some guilt. Emotions ran high actually.
But my husband, ever practical in the way I find men are with these sorts of things, had a great solution: let's just move his birthday. It's not like our toddler had a Google calendar. Or a Facebook account to remind everyone it was his birthday. So we did. I flew to Melbourne for work and we celebrated as a family the next day. This worked a treat for him and also pretty well for me.
And now that he's old enough to read this, I still think he'll be cool with it. The important part is the fact he got to eat cake as a main meal.
Watching the media coverage of Prince George attending his first day at school this week, my heart squeezed a little for his mother, Princess Kate, who was no doubt doubled over with the severe nausea that plagues her in the first months of her pregnancies mixed in with dismay at missing her firstborn's big day.
I looked at this picture and I thought about how hard it would be for her to see......
That was meant to be Kate, holding her little boy's other hand and the fact she wasn't there will no doubt be as hard for her to swallow as solid food. It's not fair. It's not right.  And it's not. But when you become a parent, you need to learn to accept not being there for every milestone, every concert, every sports game, every triumph and disappointment. Your child will kick goals and win prizes and have birthdays and lose a tooth and do many, many things that you will miss because you're human.
Of course every parent's greatest fear is that something will sever them from every milestones. That's the fear that turns our blood cold and our stomach to acid. I went to the funeral of a beautiful little seven year old boy last week, Millar Munro. What his parents wouldn't give to spend just another hour with him, another minute. They treasured every milestone, every tiny victory, every waking and sleeping moment in the last year of his life.  The remarkable Connie Johnson, who we lost on Friday, knew for years that the milestones she would spend with her children were finite and she needed to cram in as many memories as she could because there were many she would miss.