Knowing he had only weeks left to live, the parents of a dying child have married in a hospice so their son could be in attendance.
One-month-old Conner Armstrong was born with a rare genetic disorder called Trisomy 18, also known as Edward's syndrome, leaving him with severe, fatal defects. Most babies diagnosed with the disorder die within the first 18 weeks of life.
Parents Christopher and Patricia wanted to get married before their little boy lost his life and organised a last-minute hospice wedding. At different stages during the ceremony the emotional parents took turns holding their little boy.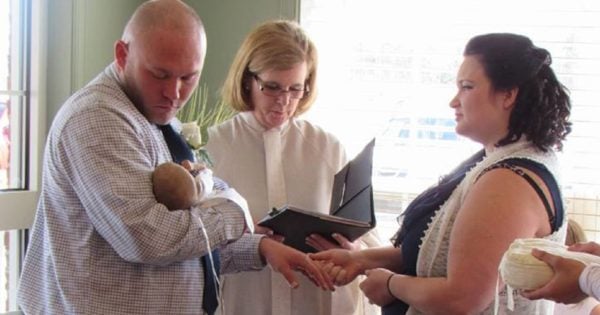 Their wedding photos will be some of the only family photos they will have to help them to remember their son.
"We were told we didn't have much time left with Conner," Christopher told CBS News. "So we wanted him to be [at the wedding].
"It's been scary. It's been emotional, but it's well worth it," she said.
Sadly, three days after their wedding, Conner passed away.
Patricia turned to Facebook to share the sad news, sharing the following post:
She said their baby boy was a fighter and lived much longer than doctors and others expected. The devastated mum added she and Christopher could see the love in his eyes when he looked at them.
"We gave up everything to be closer to our son," she wrote.
"We love you Conner Alexander Armstrong please pray for us as we pick up the pieces to our life. Find a new home and get things back to somewhat normal if at all possible."
To support the family in paying for Conner's funeral costs visit the following page Funeral Costs For Baby Conner.