It's a story that's made headlines all over the world: Caitlan Coleman and Joshua Boyle were barely married a year when they embarked on a backpacking trip through Central Asia.
It wasn't meant to be a long trip – Caitlan was five months pregnant at the time – but in late 2012, the pair were kidnapped by the Haqqani network, a terrorist organisation with links to the Taliban.
They were held captive for five years, until they were finally rescued by Pakistani troops on October 12 this year.
Caitlan gave birth to three children – now aged four, two and six months –  during her imprisonment, one of them by flashlight.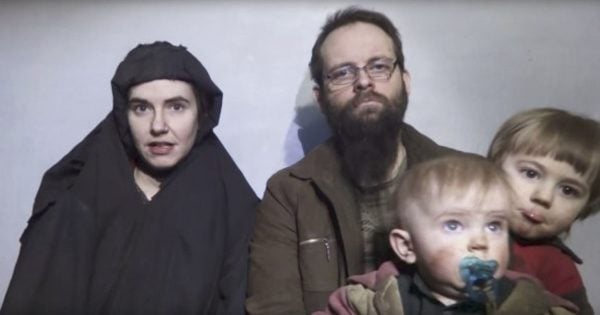 In an exclusive interview with ABC News, the couple has revealed how they fought to keep their kids alive and safe during their time in captivity.
The games and stories they made up are shocking, but show the extent the parents were willing to go to to help their children cope with a life where they were unable to even see the sky.
"It was difficult," Caitlan, now aged 31, said of trying to give her children as normal an upbringing as possible.
EXCLUSIVE: Freed hostage family speaks out as they share harrowing ordeal of five years in captivity: https://t.co/t9v4Mhos3n - @BrianRoss pic.twitter.com/P57t00XzAw

— Good Morning America (@GMA) November 20, 2017