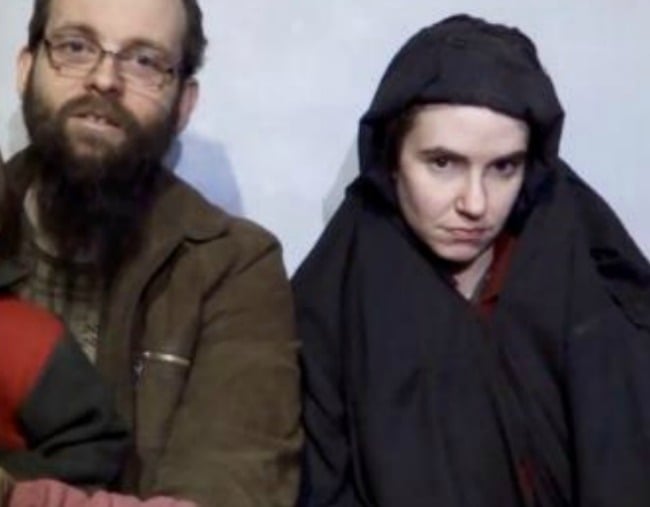 "My children have seen their mother defiled," Caitlan Coleman says, staring down the barrel of the camera.
Coleman, 31, is wearing what looks like a makeshift black hijab, covering her dark hair. She is pale and gaunt, her cheekbones protruding in a way they didn't five years before.
"We can only ask and pray that somebody will recognise the atrocities these men carry out against us as so called retaliation," she says, reading from a piece of paper.
"If we all come out of this safely and alive then it will be a miracle."
The proof-of-life tape was released 10 months ago, at the beginning of 2017. Coleman and her husband Joshua Boyle had, by this point, spent more than four years in captivity.
Boyle has a long beard, and his face is grey. They both look cold.
And on his knee sit two toddlers, along with a newborn in his wife's lap.
These three children, at the time of filming the video, did not know a life outside an underground prison.
Listen: The latest episode of Tell Me It's Going To Be OK. (Post continues below…)
Coleman, from the US, and Boyle, a Canadian, married in 2011, and they were described as a couple who had "caught the travel bug". It wasn't a surprise to family and friends when the pair announced their next adventure: a trip to Central Asia.
The details weren't yet clear, but they planned on maybe visiting Kazahkstan, Kyrgystan and Tajikstan where they could volunteer with aid groups.
Coleman's mother, Lyn Coleman, told The Philadelphia News, that Afghanistan was never part of the plan. "They promised us they wouldn't go," she said.
But in October 2012, they did.
They didn't plan on staying long, because Coleman was heavily pregnant with their first child. They were eager to get home and set up their new family.
On October the 8th, Boyle contacted his family from an internet cafe and said they were in an "unsafe part" of Kabul. They did not feel comfortable.
Coleman's father, Jim Coleman, would later say, "Taking your pregnant wife to a very dangerous place, to me, and the kind of person I am, is unconscionable."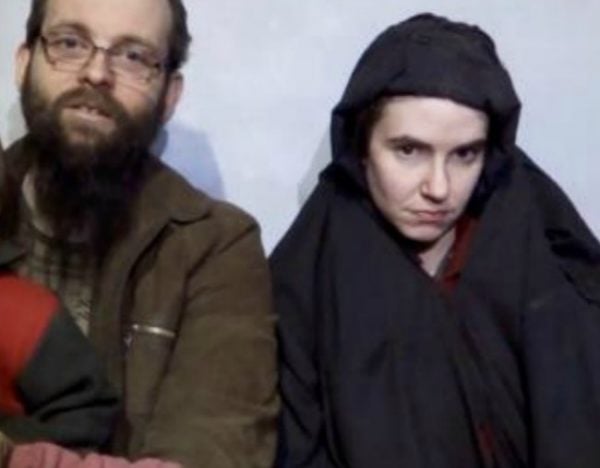 Days later, while they were backpacking in Wardak Province near Kabul, the young, newly married couple, were kidnapped by the Haqqani network, a terrorist organisation with links to the Taliban. It is uncommon for them to hold Westerners hostage.
No ransom was demanded of their families, and it was initially unclear what they wanted from the two innocent civilians.
It wasn't until years later that their demands and negotiations with the US government became public knowledge. The Taliban was seeking exchange for the release of members of the Haqqani Network that were imprisoned.
Their demands were not met.
In the underground prison where they were held captive, Coleman gave birth to their first child, a baby boy.
A few years would pass before his grandparents would catch a glimpse of him in a proof-of-life tape.
Coleman and Boyle went on to have two more children in captivity, another boy and a girl. Boyle claims to have delivered one son by flashlight.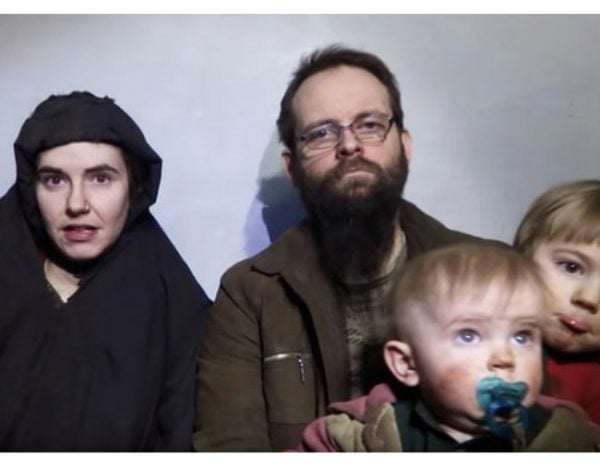 As negotiations failed, and the militant group maintained the threat that they would kill the entire family, hope began to dwindle.
"They are willing to kill us. Kill women. Kill children," Coleman said desperately in a video in 2016.
For Patrick Boyle, Joshua Boyle's father, "the likelihood of a successful rescue" had been "pretty much discounted from our minds".
They were the hostages who the US had left behind.
Until this week.
On Wednesday October 12, Pakistani troops, operating under orders by the United States, found Coleman, Boyle and their three children in the Kurram Valley region that borders Afghanistan.
The family were locked in the boot of a car, and ferried across Pakistan.
During the rescue operation, a struggle ensued. Boyle heard the words, "kill the hostages," before a violent shootout erupted. Boyle sustained a shrapnel wound, but the family was otherwise unharmed.
"Josh said he was doing pretty well for someone who has spent the last five years in an underground prison," Boyle's father told the Toronto Star following their release this week.
Coleman and Boyle are reportedly both traumatised but otherwise, physically, in good health.
After hearing the news of their escape, Coleman's mother said, "I am in a state of euphoria, stunned and overjoyed. Caity and her family's nightmare is finally over."
The family are currently in Pakistan, soon to be repatriated to their homes.
"If we all come out of this safely and alive then it will be a miracle," Caitlan said 10 months ago.
And this week, they got their miracle.