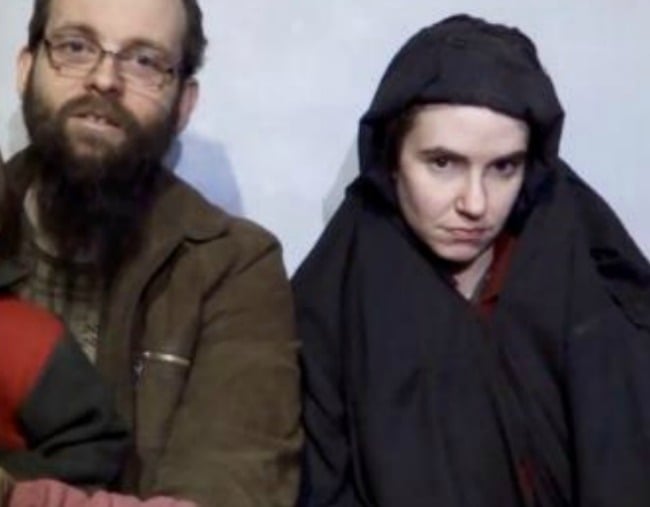 "My children have seen their mother defiled," Caitlan Coleman says, staring down the barrel of the camera.
Coleman, 31, is wearing what looks like a makeshift black hijab, covering her dark hair. She is pale and gaunt, her cheekbones protruding in a way they didn't five years before.
"We can only ask and pray that somebody will recognise the atrocities these men carry out against us as so called retaliation," she says, reading from a piece of paper.
"If we all come out of this safely and alive then it will be a miracle."
The proof-of-life tape was released 10 months ago, at the beginning of 2017. Coleman and her husband Joshua Boyle had, by this point, spent more than four years in captivity.
Boyle has a long beard, and his face is grey. They both look cold.
And on his knee sit two toddlers, along with a newborn in his wife's lap.
These three children, at the time of filming the video, did not know a life outside an underground prison.
Listen: The latest episode of Tell Me It's Going To Be OK. (Post continues below…)
Coleman, from the US, and Boyle, a Canadian, married in 2011, and they were described as a couple who had "caught the travel bug". It wasn't a surprise to family and friends when the pair announced their next adventure: a trip to Central Asia.
The details weren't yet clear, but they planned on maybe visiting Kazahkstan, Kyrgystan and Tajikstan where they could volunteer with aid groups.
Coleman's mother, Lyn Coleman, told The Philadelphia News, that Afghanistan was never part of the plan. "They promised us they wouldn't go," she said.
But in October 2012, they did.
They didn't plan on staying long, because Coleman was heavily pregnant with their first child. They were eager to get home and set up their new family.
On October the 8th, Boyle contacted his family from an internet cafe and said they were in an "unsafe part" of Kabul. They did not feel comfortable.
Coleman's father, Jim Coleman, would later say, "Taking your pregnant wife to a very dangerous place, to me, and the kind of person I am, is unconscionable."