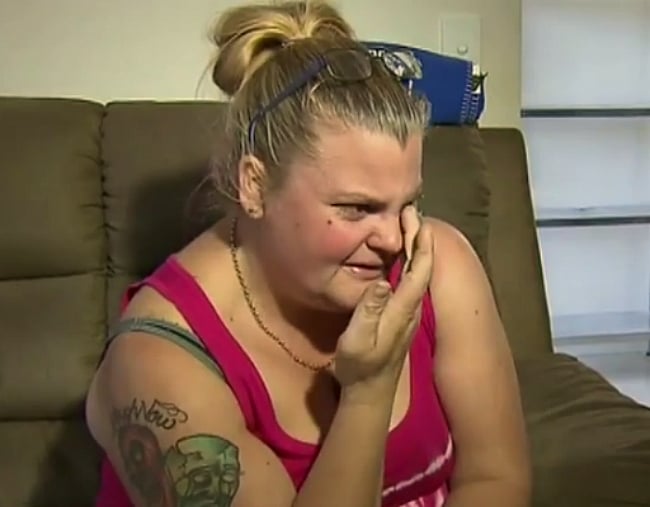 With AAP.
1. Mum of seven jailed for burning down three houses as part of money plot.
Mother of seven Rebecca McKellar has pleaded guilty to burning down three rental properties in just four years in order to collect insurance.
According to A Current Affair, the Queensland woman's first act of arson occurred in 2011, when her home went up in flames nine days after she took out $28,000 contents insurance. The program cited court documents which stated that McKellar had placed a blanket in front of a heater, which caught alight while she was out.
The program reported that she collected close to $17,000, while the owner of the property, Kim Douglas, was left with a capital loss of $120,000.
"It just stuns me that it could have been deliberate from someone that I trusted," Ms Douglas told A Current Affair.
"I had some thoughts that it could have been suspicious because there was a heater on, and it was December in Queensland, and that didn't make sense to me."
Bonfire Bec will be forced to put away the matches and face the music, after being sentenced to time behind bars. Join us as we look at the crimes of the mother of seven.#9ACA |WATCH THE FULL STORY: https://t.co/DX3ngeSr0i pic.twitter.com/RwuWaxlzTL

— A Current Affair (@ACurrentAffair9) July 17, 2018
Two more blazes followed. Finally, police grew suspicious when McKellar denied having insurance after a fire engulfed her public housing residence; she had recently taken out a $120,000 policy, according to Nine News.
"I honestly really don't know what started it, how it started," she told media at the time.
McKellar was ultimately charged in 2016 with three counts of arson, four counts of fraud and one count of wilful damage relating to properties in Bellbird Park, Leichhardt and Ellen Grove between December 2011 and August 2015. She was sentenced to six years behind bars, but will be eligible for parole after 18 months.
2. Trump claims he misspoke during controversial Putin press conference.
President Trump says he misspoke during a key moment in his remarks about Russian interference in the 2016 election: "I said the word 'would' instead of 'wouldn't.' … The sentence should have been: 'I don't see any reason why it wouldn't be Russia.'" https://t.co/3mqzCmH1Im pic.twitter.com/VWVeDFJ3uG

— CNN (@CNN) July 17, 2018
Grappling with a torrent of criticism over his performance at a Helsinki summit, US President Donald Trump says he misspoke at the joint news conference with Russian President Vladimir Putin.
Standing alongside Putin at the news conference in Helsinki on Monday, Trump was asked if he believed US intelligence agencies' conclusions that Russia interfered in the election in an effort to help him defeat Democrat Hillary Clinton.
Trump said he was not convinced it was Moscow.
"I don't see any reason why it would be," Trump said. "President Putin was extremely strong and powerful in his denial today."
Trump issued a correction to reporters at the White House on Tuesday: "In a key sentence in my remarks, I said the word 'would' instead of 'wouldn't.' … The sentence should've been: 'I don't see any reason why it wouldn't be Russia.'"
He added that he had full faith and support for US intelligence agencies and accepted their conclusion that Russia meddled in the election.
"The full faith and support for America's intelligence agencies – I have a full faith in our intelligence agencies," Trump said in remarks preceding a meeting with House of Representatives Republicans about possible future tax cuts.
He said Russian actions had no impact on the outcome of the vote and the administration would work aggressively to protect the November 2018 congressional elections.
3. Thousands opt out of digital health record system amid privacy concerns.
Unless you take action to remove yourself before October 15, the federal government will make a digital copy of your medical record, store it centrally, and give numerous people access to it.#MyHealthRecord https://t.co/BTruPXdNEy

— The Conversation (@ConversationEDU) July 17, 2018
About 20,000 opted out of Australia's electronic health record system on the first day of a three-month opt-out window despite website glitches.
Almost six million people have signed up for a My Health Record – a digital medical history – over its six years of operations.
But there are fresh concerns of possible cyber-security threats and privacy breaches.
When many people tried to opt out on Monday, the website presented them with errors instead.
"There was a glitch yesterday, I understand, but it's been resolved I've been assured, and about 20,000 people did opt out online yesterday," Prime Minister Malcolm Turnbull told 3AW radio in Melbourne on Tuesday.
The government has opened a three-month opt-out window, ending on October 15, for people who do not want a record created for them.
After this date an e-health record will be created for every Australian by default.
A number of people reported on Monday not being able to log in or get through to a hotline to opt out of the scheme, but the problems were being ironed out.
Health Minister Greg Hunt said world-leading security meant there had been no breaches of the system over the past six years.
4. Adelaide man pleads not guilty to the murder of his disabled wife.
Peter Rex Dansie pleads not guilty to the murder of his wife. https://t.co/KoOgXOYss0

— The Advertiser (@theTiser) July 17, 2018
An Adelaide man charged with the murder of his wheelchair-bound wife has been ordered to stand trial.
Peter Dansie appeared in Adelaide Magistrates Court on Tuesday where he pleaded not guilty to the drowning murder of his disabled wife Helen.
He was remanded on continuing bail to appear for arraignment in the Supreme Court on August 13.
Dansie, 68, was arrested in July last year, nearly three months after his wife Helen drowned when her wheelchair rolled into a pond in the Adelaide parklands.
At an earlier bail hearing, prosecutor Sarah Attar alleged the death of 67-year-old Ms Dansie was a planned and premeditated crime.
She said investigations by police had discounted much of what the dead woman's husband had told emergency services.
A magistrate initially refused bail but the decision was overturned in the Supreme Court and Dansie was released on strict home detention conditions, including electronic monitoring.
5. Members of protest group Pussy Riot sentenced to short jail stints after World Cup demonstration.
Attention! The court has just sentenced the first Pussy Riot member, Veronica Nikulshina, with 15 days of administrative arrest (will spend them in a special prison) and banned her from visiting sports events. pic.twitter.com/e0hX5fQSzl

— ???????????????????? ???????????????? (@pussyrrriot) July 16, 2018
Four members of Russian punk protest collective Pussy Riot have been sentenced to 15 days' jail for barging onto the playing field at the Luzhniki Stadium in Moscow during Sunday's World Cup final.
The four protesters had run onto the field during the 52nd minute of the France vs. Croatia match wearing old-fashioned police uniforms. They were quickly tackled to the ground and dragged off by FIFA stewards, though one of the protesters still managed to snag a double high-five from French player Kylian Mbappe.
In a statement posted to their Twitter account, Pussy Riot wrote that the disruption was meant to protest the detention of political prisoners, including Ukrainian filmmaker Oleg Sentsov.
On Tuesday, Sentsov entered the 65th day of a hunger strike in a high-security prison camp where he is being detained on what several human rights organisations say are trumped-up terrorism charges.
Pussy Riot titled their protest on the field as "Policeman enters the Game".
A Russian court Monday issued the relatively light prison sentence to the four protesters after finding them guilty of violating the law on proper behaviour during spectator sports events and banned them from attending other sports events in Russia for the next three years.
Pussy Riot has been active since 2011, and particularly vocal against the administration of President Vladimir Putin, whom they consider a dictator.
6. Usain Bolt has his eye on becoming an Australian soccer star. Yep, really.
Usain Bolt is in talks for trials with Australian A-League club Central Coast Mariners as he hopes to become a professional footballer https://t.co/wqDCPEGcXs via @cnnsport pic.twitter.com/4qqF3HUQRJ

— CNN (@CNN) July 17, 2018
Usain Bolt's long-time agent Ricky Simms has confirmed the Jamaican sprint king is considering an offer to trial for a contract with A-League club Central Coast Mariners.
And Football Federation Australia appears willing to at least have a "discussion" around whether it will tip in the $900,000 required to get the ambitious proposal off the ground.
Australian football agent Tony Rallis says an in-principle deal has been reached to bring the eight-time Olympic gold medallist to Central Coast for a six-week trial.
Simms, who signed Bolt when he was a 15-year-old prodigy, said it was a genuine possibility.
"Usain has made it quite clear that he's interested in playing professional football," Simms told AAP.
"We're looking at a number of options and this is one of them."
Bolt, 31, retired from sprinting last year but is a lifelong football fan and has long harboured ambitions of playing.
But there are serious doubts he could pass muster as a professional – even at the Mariners, who finished bottom of the A-League table last season.
Bolt has trained or trialled at numerous clubs around the world, including Germany's Borussia Dortmund, South Africa's Mamelodi Sundowns, and Norway's Stromsgodset.
None have seen fit to offer him a fulltime deal.
Rallis told AAP that Bolt's trial would only go ahead if FFA agreed to contribute funds towards his contract if he is successful.
"(Simms) understands it," Rallis told AAP.
"We're not going to risk the Bolt image or brand or discredit the A-League.
"It's a trial, no different to Jarryd Hayne in the NFL, or rugby league players becoming boxers or AFL players.
"We're going through the proper channels; we're just waiting for a reply."
FFA has a pot of $3 million, provided by Fox Sports, to spend on marquee players for the upcoming season.
FFA is believed to be deep in talks with former Japanese international Keisuke Honda, who is interested in joining Melbourne Victory and would command the majority of the fund if he reaches an agreement with the A-League champions.
Conceivably, the rest could be allocated to Bolt – and then freed up to be spent on other players if he does not win a contract.
"We are actively working with A-League clubs on a number of potential marquee players," an FFA spokesperson told AAP.
"While Usain Bolt is one of the most famous athletes on the planet, he's not a professional footballer.
"If the trial goes ahead and Central Coast Mariners decide it stacks up and they want to offer him a contract, then we will have a discussion with them around that and what might be possible."
The news has been met with a decidedly mixed reaction.
Some believe it will give the A-League a pang of much-needed publicity.
Others, like Fox Sports commentator Simon Hill, believe it reduces the competition to a "a sideshow, a circus freak show, a gimmick."
"We don't need it," Hill told SEN Radio.
"If we are going to bring in big stars, then let's get proper marquee players, for which you have to pay."