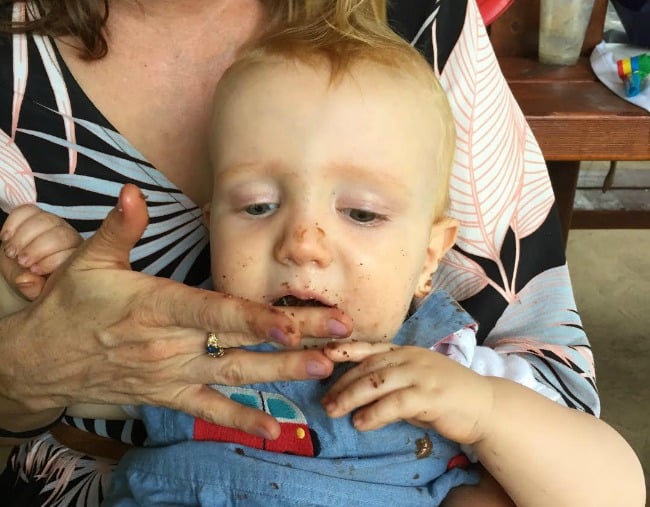 Last month we hosted a party in the park to celebrate our second son Leo's first birthday. As the big day approached and he started to sleep better, crawl around and communicate with us more easily, it felt as if we had the whole parenting-two- kids-thing utterly nailed.
It was a special moment to enjoy a glass of champagne with friends and family while patting ourselves on the back for surviving that first-year fog. It was time to move onwards and upwards.
The cake was not quite cleared away, however, when it became apparent we may have peaked too early with the champagne. Maybe I had forgotten from the first time around (or perhaps Toby was a much nicer one year old?), but suddenly the parenting thing all got a bit hard again.
Overnight my sweet little baby had been replaced by a gremlin. I started frantically googling 'wonder weeks', 'leaps',' growth spurts' and 'how to tell if my one year old is an a**hole?' but there were no definitive answers and apparently it isn't cool to call your baby an a**hole.
Holly Wainwright sticks up for shouty parents, on our family podcast. Post continues after audio. 
Isn't it supposed to be Terrible Twos, not No-Fun-Ones?
Thankfully, my Mothers' Group came to the rescue with some well-timed Facebook posts about their little ones also going from being gurgling wee babies to growling, biting beasts. We all shared some tips and sympathy and took comfort in that often-repeated mantra; 'this too shall pass'.
Being one is tough, not only for the parents, but for the ankle biters themselves. They realise there is a whole exciting world out there and yet they can't do all the things and say all the things they would like to, and so get frequently frustrated.