It wasn't just that my son wanted to dress as a clown this Halloween, he wanted to dress as a 'killer clown' and my answer was HELL NO.
This whole 'killer clown' business has really freaked me out. Even though it started as a series of prank videos, the idea of bumping into someone this Halloween decked out in a clown costume and holding a knife is just too much for me. I don't even want to go trick-or-treating with my kids this year.
Clowns are scary, always have been, not just because of Stephen King's IT but because clowns are usually creepy old men who paint their face and hang out with a bunch of kids. Not to disparage the entire clown industry, but seriously, coulrophobia (a specific fear of clowns) exists for a reason.
Creepy clowns in South Carolina are apparently luring kids into the woods. Article continues after this video.
He can be anything else and trust me when I tell you that Philip, 12, is very good and coming up with horrifying Halloween costumes each year. He's been a zombie, a monster, a zombie monster…but I draw the line at clowns.
It's just too dangerous.
Girls too are wanting to dress as crazy/creepy/deranged/killer clowns this year and some stores have gone so far as to remove clown costumes from their shelves. "Given the current environment, we have made the decision to remove a variety of clown masks from our assortment," Target spokesperson Joshua Thomas told Mashable Australia last week. However some stores have done the reverse, stocking up ahead of Monday to cash in on the craze.
Police are not impressed. In Carina, Queensland, police have issued a warning against clown costumes this year. Carina is near Redland Bay where a woman reported seeing a clown with a knife. "Given the serious nature of it — it would be wise for people to choose some other themed costumes than some scary or horror clown," Sen-Sgt Gordon told the Courier Mail on Monday. "It might be time to give the Twilight costume another revamp."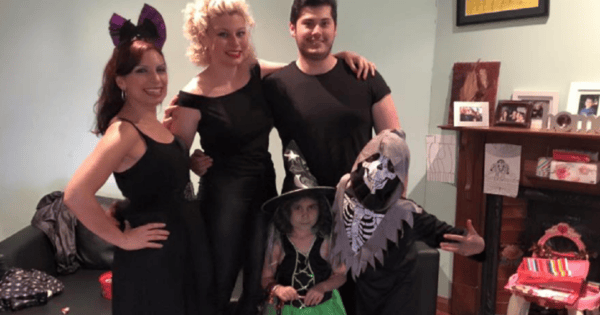 But should we let a bunch of stupid creeps ruin Halloween for our kids? Shouldn't our children be able to dress up as whatever they like for the one night of the year during which they get to run wild and try and scare the bejesus out of friends, family and neighbours alike?
As Halloween grows in popularity in Australia each and every year, shouldn't we fully embrace it in all of it's scary, creepy, inappropriate glory? "Last year we doubled our sales and we are hoping to hit those numbers again this year ... so it's absolutely huge for us," Spotlight Retail Group creative content manager Nick Casey told The Sydney Morning Herald earlier this week.
The risk is that someone may get hurt. According to The Guardian, a teenager in Germany was stabbed after he dressed up as a scary clown and tried to frighten a group of people. He approached the group carrying a hammer and one of the group, a 14-year-old, pulled out a knife and stabbed him.
Then there're the older brothers of my son Giovanni's friends, who have promised to "bash" anyone dressed as a clown who tries to scare them on Monday night. It's a situation that could so easily escalate out of control.
I just don't want my son on the receiving end of such a defence, which is why I think I'm going to stick to my clown ban this year, despite the fact I'm annoyed I have to do this at all.
My mums' group on Facebook have advised that I ban clown costumes but they think I should explain my reasons to Philip. At 12 they feel he is old enough to understand the situation and it would make for a more peaceful Halloween if he is on board with my decision. To quote one member of the group, "Yes a bunch if twits has spoilt it for us clowns", and I have to agree.