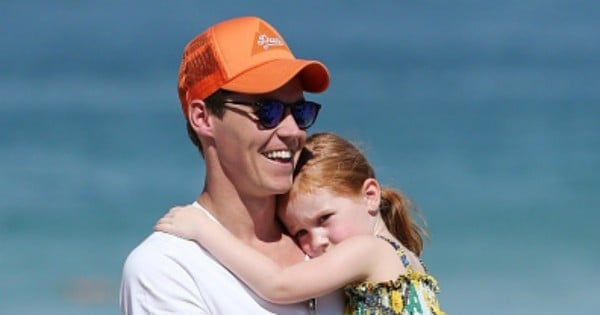 Oliver Curtis is going to jail.
Having been found guilty of insider trading just three weeks ago, Oliver Curtis has now been sentenced to two years jail.
He will be eligible for release in one year.
He handed his wedding ring to wife Roxy Jacenko and they kissed before he was led away.
Appearing at the NSW Supreme Court on Friday with his PR mogul wife Roxy Jacenko by his side, Curtis looked sombre as the judge handed down the sentence.
Justice Lucy McCallum said Curtis had shown "no contrition to any degree whatsoever" in the lead up to his conviction on June 2.
McCallum said Curtis must have known his actions were "very wrong" personal gain could have been the only motive for his actions.
Curtis was facing a maximum penalty of five years imprisonment and a $220,000 fine.
Curtis and Jacenko with son Hunter. Source: Instagram.
The decision comes following a highly publicised trial that involved testimonials from Curtis' former best friend and colleague John Hartman, who told the jury that the pair had operated an insider trading scheme together that ultimately lead to Curtis profiting over $1.4 million.
Hartman told the court there were 45 instances in which the scheme was employed between May 2007 and June 2008, with Hartman - who was an equities analyst at the time - sending information to Curtis via an encrypted Blackberry PIN messages. The pair would then use the information to buy or sell financial instruments, which track the price of shares on the stock market.