This morning I woke to the news that actresses Emma Watson and Mischa Barton had some of their most intimate, private moments leaked online.
For Watson, 26, private photos taken while she was getting changed for a fitting have been stolen, and promulgated across the dark web. In Barton's case, an ex-boyfriend has threatened to sell "revenge pornography" to the highest, sleaziest bidder. It's a nightmare the 31-year-old describes as "my absolute worst fear".
Whenever these celebrity nude photo scandals arise, we seem to be split into two equally vocal groups: the ones who say leaking nude material is an act of sexism, and those who don't really understand the big deal; it's just tits and an ass, right? Get over it.
While I am no international celebrity (I drive a shitty Holden Barina that's sans two hubcaps and have a wardrobe full of Cotton On), I do on some level relate to how both women are feeling today.
When I was 20, and had a lovely constellation of acne across my cheeks, I received these Facebook messages from a male friend: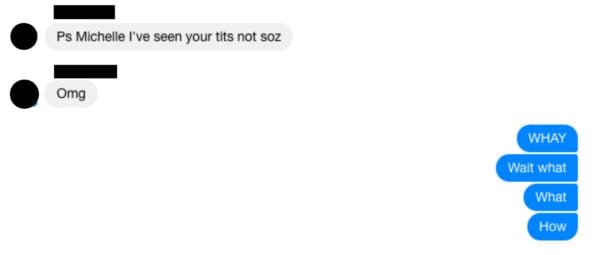 I still remember how panicked I felt the moment that message, sent in a group chat, illuminated on my iPhone.
"Ps Michelle I've seen your tits not soz."