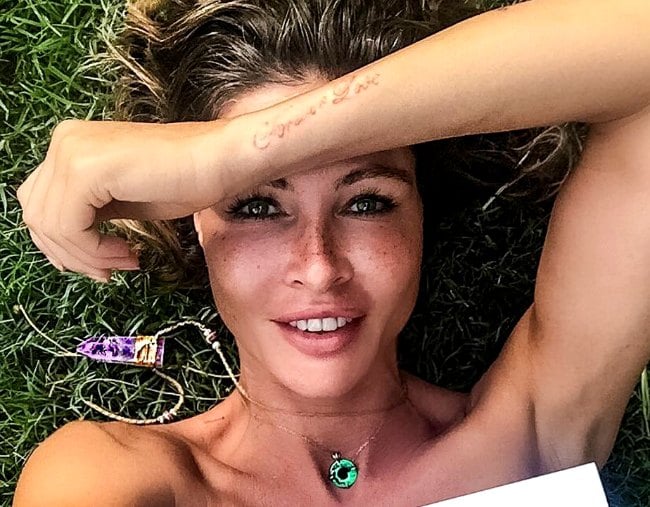 Appearing on Channel 7's Sunday Night, Nicola Robinson Evans spoke about her decision to have her breast implants removed.
"I didn't actually like them. They were making me sick and essentially ageing me. So it just made perfect sense to me that they had to go," the 41-year-old former model and wife of My Kitchen Rules host Pete Evans said on the program. "I've had to have a number of surgeries to correct ongoing complications. It's been a painful, expensive process."
Later, on Instagram, Nicola revealed why she had breast implants in the first place – and it was pretty heartbreaking.  
Responding to a comment on her post about the show, Nicola spoke of her life-long struggle with low self-esteem and admitted she had tried to fix this in "destructive ways".
She also revealed she blamed herself for her mum's nervous breakdown when Nicola was just three.
"15 years, prior to her marriage to my Dada, she lived with a man who tormented her emotionally and physically, she had two sons with him and was terrified to leave due to the threat that he would hunt her down if she did," she wrote.
Although her mum had eventually "found the courage" to escape and had gone on to meet Nicola's father and fall pregnant, she was still traumatised by her previous relationship, which lead to a nervous breakdown.
"I blamed myself because I had no comprehension at all of her reality," Nicola wrote.
"That whole experience definitely played a part in my past self loathing and my inability to look in the mirror and see my true pure essence, which of course led me down a spiral of trying to fix myself in destructive ways.
"Add to that a 15 year modelling career, steeped in constant judgement of my outward appearance, which of course created neural pathways that didn't encourage an accepting view of myself and you've got a recipe for behaviour that just doesn't reflect my innate self at all."
However, now that she's had her implants removed, Nicola wants to campaign for other women who might be suffering from implant-related illnesses.
While some doctors do believe that implants aren't 100 per cent safe – like Macquarie University's Dr Louis Wessels who appeared on the Sunday Night segment, breast implant illness is not recognised in the medical community at large, or by the Therapeutic Goods Association, which is the government body which regulates therapeutic goods.
Nicola Robinson speaks about getting breast implants on Sunday Night.
You can read Nicola's entire response here:
"I didn't want to share the reasons why I believe I made the choices I made, but it may be helpful for me to share them with you," she wrote.

"It actually all began in the womb. My Mum was in a very deep state of fear throughout much of her pregnancy with me. For 15 years, prior to her marriage to my Dada, she lived with a man who tormented her emotionally and physically, she had two sons with him and was terrified to leave due to the threat that he would hunt her down if she did. Eventually she found the courage to save herself & her two boys and escaped.

"She journeyed back to her Motherland where her family lovingly hid her and my brothers and kept them safe. During this time she reconnected with my Dad (they were childhood sweethearts for all of their teens) and quickly fell pregnant with me. She never had a chance to release the inconceivable trauma she endured during her first marriage and when I was three she had a very debilitating nervous break down.

"I actually remember it well and I blamed myself because I had no comprehension at all of her reality. That whole experience definitely played a part in my past self loathing and my inability to look in the mirror and see my true pure essence, which of course led me down a spiral of trying to fix myself in destructive ways. Add to that a 15 year modelling career, steeped in constant judgement of my outward appearance, which of course created neural pathways that didn't encourage an accepting view of myself and you've got a recipe for behaviour that just doesn't reflect my innate self at all.

"I don't regret my choices, I pass no blame and I forgive myself wholeheartedly. It is an ongoing journey of healing and I'm grateful for every second of it!"