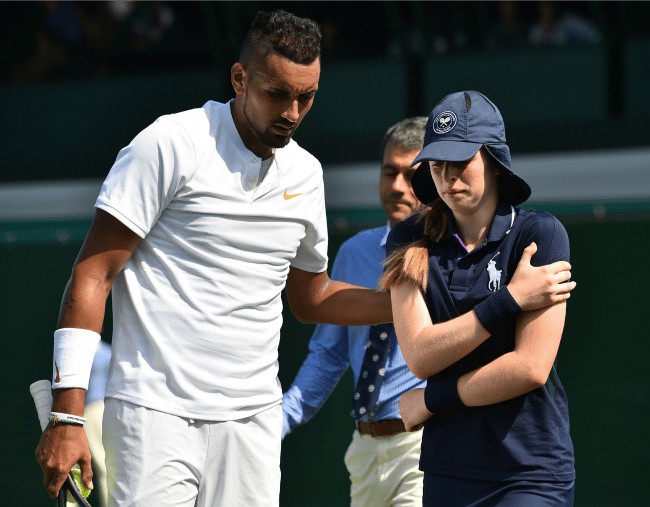 You know your reputation has taken some hits when showing kindness to a ball girl that you (accidentally) injured is worthy of international praise. But that's life for Nick Kyrgios.
After simulating a sex act on a water bottle at Queen's Club last month, the Australian showed his softer side at Wimbledon on Tuesday after inadvertently striking a ball girl with a blistering serve during his first-round match against Denis Istomin.
The 23-year-old 15th seed, who is one of the fastest servers in the game, sent a 223km/h ace past the 31-year-old Uzbekistani veteran and straight into the girl's arm.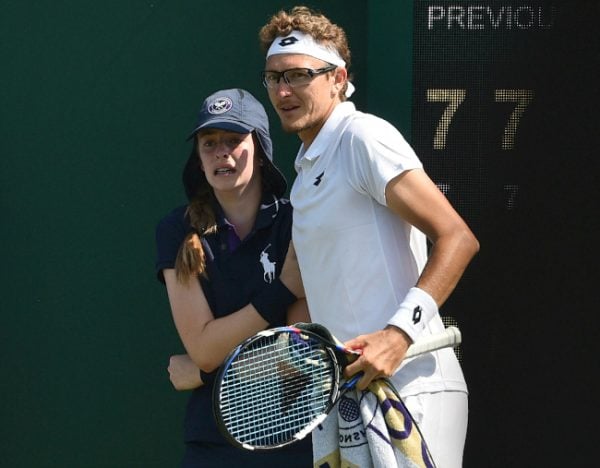 Both players were visibly concerned at the sight of the unidentified girl fighting back tears, and Istomin placed his arm around her as officials were called in to assist.
Kyrgios apologised and helped escort the girl off court.
Asked about the incident after the match, the Canberran expressed his sympathy and admiration for the child.
"Yeah, it was tough," he said. "Originally when I heard the sound, I thought it hit the scoreboard. Then I realised it was her arm. It was tough – she started crying. She took it like a champ, though. I would have been crying, for sure."
Kyrgios went on to win the match in four sets (7-6, 7-6, 6-7, 6-3).
According to a spokesperson for the All England Lawn Tennis Club, the ball girl has since fully recovered and will return to her ball girl duties.
Earlier this week, Kyrgios took a swipe at the Association of Tennis Professionals over the $23,500 fine he was slapped with for pretending to masturbate his water bottle at a June 24 Queen's Club match against Marin Cilic.
"My girlfriend [WTA player Ajla Tomljanovic] will kill me if I don't apologise and it was unacceptable," he told Express.
"But Denis Shapovalov gets fined US$5k for hitting an umpire in the eye and sending him to hospital. I get fined US$15k for playing with a water bottle."