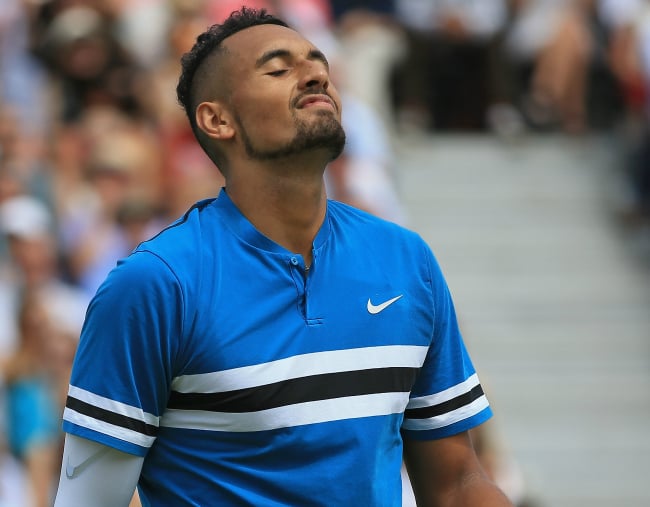 Nick Kyrgios has a reputation for not always behaving himself on the tennis court.
Just last year, the then 22-year-old was fined almost $7,000 for "audible obscenity" and "abuse of rackets and equipments" at the US Open in September.
But this time, the world number 21 has been caught simulating a sex act during a match at the Queen's Club Championships, and people are deeply uncomfortable.
Seriously Kyrgios ?! ???? pic.twitter.com/V8fJD14pJC

— poetcurious (@poetcurious) June 23, 2018
Now, the BBC has had to apologise for broadcasting footage of Kyrgios suggesting his water bottle was a… penis, at the tournament in London.
As Kyrgios rested on the bench before a game against Marin Cilic, he started joking around with an unseen person in the crowd.
Holding the water bottle in his the vicinity of his… "package", the 23-year-old moved the phallic object up and down quickly before squirting water out the top.
He continued to take a sip, sharing a cheeky smile with the people.
While the young tennis player is infamously presented as a brat, there is a sensitive side to Kyrgios.
Writing for Player's Voice last year, Kyrgios opened up about wanting to live a normal life.
"I am not the person professional tennis needs me to be. That's the truth," he began.
"There is a constant tug-of-war between the competitor within me wanting to win, win, win and the human in me wanting to live a normal life with my family away from the public glare," he continued.