NFL players have used the United States national anthem to show their defiance to President Donald Trump's criticism, with at least 100 players kneeling or sitting in protest and one team staying in the locker room.
Most teams in the early afternoon games on Sunday locked arms in solidarity. At least three team owners joined their players.
How each team would observe the national anthem emerged as the centre of attention on this NFL Sunday in the wake of Trump's critical remarks toward players who don't stand for the anthem – a form of peaceful protest started last season in the face of civil rights abuses in the United States.
"Wouldn't you love to see one of these NFL owners, when somebody disrespects our flag, you'd say, 'Get that son of a bitch off the field right now. Out! He's fired,"' Trump said to loud applause Friday night at a rally in Huntsville, Alabama.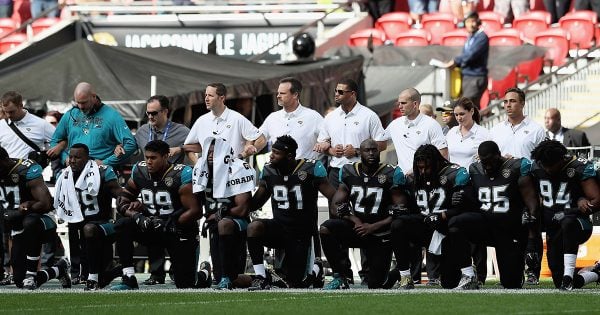 In a rare statement addressing a political issue, NFL Commissioner Roger Goodell called Trump's remarks "divisive," and said they "demonstrate an unfortunate lack of respect for the NFL."
Trump escalated his demands on Sunday morning by calling for fans to boycott the NFL. "You will see change take place fast," Trump tweeted. "Fire or suspend!"
This meant throughout Sunday's football games, players knelt, locked arms, raised fists, sat on the bench, and stayed in the locker room in opposition to the president.