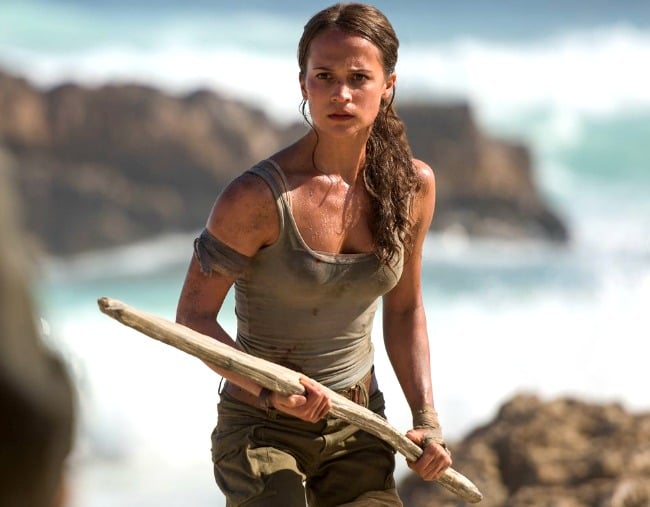 I don't usually head into movie screenings with the express intent of critiquing whether or not the lead actress' breasts are having a negative effect on the film in question, but here we are.
Before you start to wonder if I have some sort of troubling obsession with any kind of boobs that appear on the big screen in glorious technicolor, allow me to explain.
The newest Tomb Raider movie has hit cinemas and, in the lead up to its release, there was quite a bit of an internet fury over the size and style of star Alicia Vikander's breasts.
Images of the 29-year-old Swedish actress clad in the iconic Lara Croft ensemble were met positively by the majority of fans upon their release, with the exception of a very reasonable sounding young man named TJ Kirk. A man otherwise known as The Amazing Atheist, whose job is making Youtube videos in his bedroom under cover of darkness.
He said "Do I have to be the asshole who says her tits are too small for me to see her as Lara Croft? Do I have to be that guy? Do I have to be the one who fucking says it? I guess I do. Sorry." he tweeted.
Which, of course, resulted in a very heated debate over the shape, size and position of Vikander's boobs (the woman is an Oscar winner, but never mind that right now).
To be fair, the size of Lara Croft's "tits", to use TJ's lovely phrasing, has always been a talking point when it comes to this character.
Despite the fact that one of the original developers of the Tomb Raider game, Nigel West, allegedly stated years after the game was first released that the ample size of Lara's chest was actually just a mistake in the coding and not her defining character trait.
Still, this thrilling internet debate left many of us wondering… would the mere presence of these boobs actually ruin the entire movie?
Let's investigate.
The 2018, revamped version of Tomb Raider paints a very different picture of our heroine to the Angelina Jolie led version which was released in 2001.
In this iteration, Vikander's Lara is not holed up in a fancy mansion in between overseas adventure jaunts and battling complient robots.
In fact, she knows nothing about the world of espionage and tomb raiding (is that last one a real job by the way? I don't remember my high school career counsellor offering up that particular option…).
In this case, Lara is a broke hipster with a pretty great leather jacket who spends her days pedalling across London as a food delivery courier and her nights honing her talents in the boxing ring at a local gym. Or at least she tries to, as she is way behind on her membership fees thanks to the fact that despite being an heiress to an immense fortune and business empire, she refuses to allow herself access to her inheritance.
All because it would mean signing papers to officially confirm that her father Lord Richard Croft (played by Dominic West), is dead after he mysteriously disappeared seven years ago.
To get a taste of the new Tomb Raider, have a peek at the trailer.