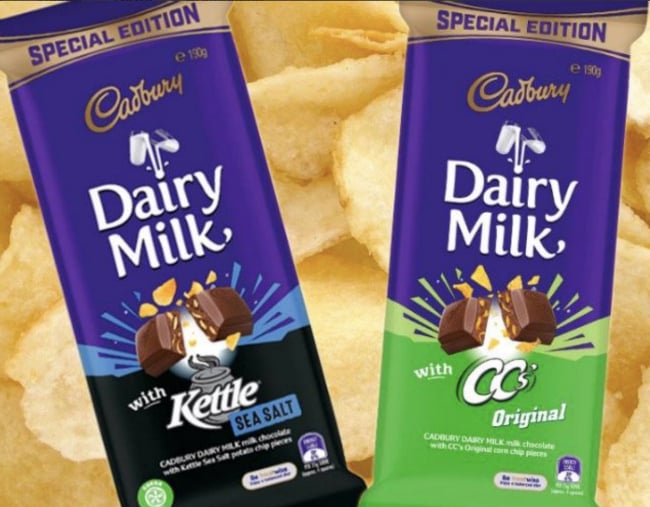 This is a very important PSA: Cadbury has just solved our ever-ending dilemma of whether to get chips or chocolate when we go to the service station. Yes, they have indeed combined the favourite flavours into one and now we can get both in one product.
The internationally renowned chocolate company has teamed up with chip brands Kettle and CC's to create two combinations: Cadbury Dairy Milk with Kettle Sea Salt potato chips and Cadbury Dairy Milk CC's Original corn chips.
This unique union of flavours might not be for everyone and is certainly raising some eyebrows amongst us chocoholics.
But much like their very contentious Vegemite and chocolate combo, it is definitely one we want to try at least once.
And it sure promises one thing: to simultaneously please our sweet, savoury and salty taste buds. What more could you ask for?
PSA: Cadbury have a limited edition choc block WITH CORN CHIPS INSIDE and I am far too excited about this. If you can't find any in Melbourne its because I've bought them all. Not even sorry. pic.twitter.com/I7KzGL0XWv

— My My Mylo! (@mylo_alexander) August 10, 2018
The blocks will be available at Coles, Woolworths and independent retailers from August 15, and the chocolate bars will be available at petrol stations and convenience stores.
The feature image for this post is via Twitter user @mylo_alexander.