'But I didn't mean to contact her.'
If I had a dollar for every time I thought that in a netball game, I'd have… well, probably about $6 a game. Not enough to retire on, but enough for me to wish I could invent some new netball rules.
I'm not a contact-er. I'm not one of those pushy players who beat the crap out of their opponent because their happiness depends on whether their social netball team wins the B-Grade-Tuesday-Night-Winter-Eastern-Suburbs-Netball-Div-2 trophy or whatever.
But I am clumsy. And accidents happen. And by 'accidents', I mean me running into my opponent at full pace because I was looking the other way, or thinking about food, or just couldn't stop my legs from running. I genuinely didn't mean to contact her.
So can we make that a rule, umpires? That if you contacted your player ACCIDENTALLY, you don't have to stand out? Also, while we're at it…
Netball rules we wish existed.
1. The 'My opponent is a giant' rule.
If a player is dwarfed by their opponent by at least 0.51 metres, player may have one free pass per quarter, lest they will give up and go home.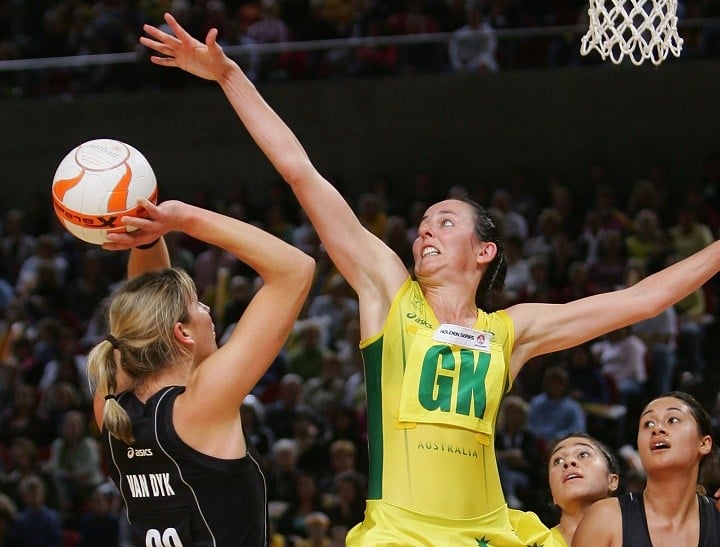 2. The 'I am naturally tall, I can't help it that my arms are long enough to clear 3 feet and sit right in front of the shooter's face' rule.
Similar to the 'But I didn't mean to contact her rule', but to be played in conjunction with Rule 1. Penalties should be split between the tall player and the short player, or a fight may break out. And the short one will probably lose when the tall one holds her by the head while her little arms flail.
Listen to Holly Wainwright and Andrew Daddo put forth the argument for kids' sport being organised by size, rather than age. Post continues after audio…