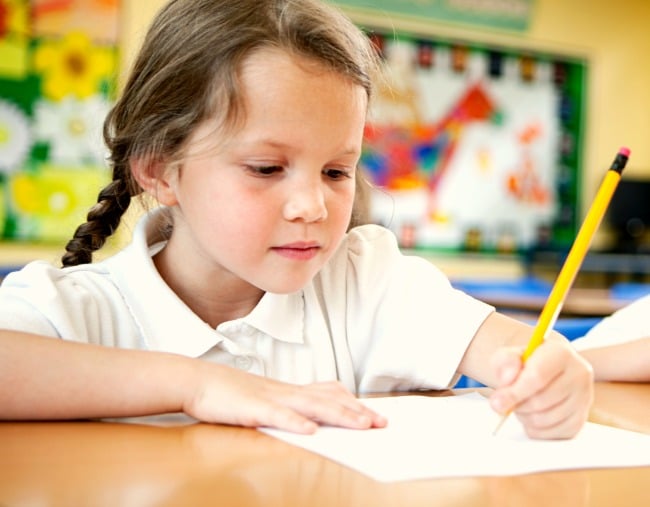 A cheat sheet on how to ace the NAPLAN writing test is going viral right now. So should you give it to your kids?
The official name of the cheat sheet is "Dr Perelman's guide to a top-scoring NAPLAN essay".
Dr Les Perelman is a world-renowned education expert from the US who has just reviewed the NAPLAN writing test, which is given to Australian students in Years Three, Five, Seven and Nine.
WATCH: Could you pass the NAPLAN test? Andrew and Holly give it a go. Post continues after video.

Dr Perelman calls it "the worst" of the 10 or 12 international tests that he's studied in depth.
"It's measuring all the wrong things," he told the ABC. "It doesn't reward spelling correctly. It rewards using big words."
Dr Perelman's guide advises that students should memorise the list of difficult and challenging words put together by the Australian Curriculum, Assessment and Reporting Authority (ACARA). The challenging words range from "definite" and "brilliance" to "haemoglobin" and "quiescent". He says students should sprinkle words from this list throughout the paper.
"Feel free to repeat them, and do not worry very much about the meaning," he adds.
The full list of words can be found in the appendices to Dr Perelman's report, beginning from page 73.
Is NAPLAN stressful or should kids harden up? Each year, parents complain about the stress NAPLAN puts their kids under? But is stress an important emotion to make kids familiar with? The Mamamia Out Loud team discuss.
Dr Perelman suggests starting sentences with connective words, such as "moreover" and "however", and using the passive voice frequently. He also suggests lifting story lines from TV shows and movies for narrative essays.
"Markers are explicitly instructed to ignore if they recognise any stories or plots and mark the script on its own merits as if it was original," he explains.
Dr Perelman's NAPLAN review was commissioned by the NSW Teachers Federation. A spokesperson for the federation, Denis Fitzgerald, says Dr Perelman's guide is "both tongue-in-cheek and serious".
"It's a good way to capture the essential problems with the NAPLAN writing test," Fitzgerald tells Mamamia, "because it encourages really bad writing."
He says he wouldn't want parents to actually get their kids to follow the guide when doing their NAPLAN test.
"The long-term interest of kids is better than the short-term fix that you get with the test result," he says. "The thing around the guide was to expose the fact that it does reward bad practice."
In 2005, Dr Perelman wrote a guide like this for the essay section of the SAT, which is used for college admissions in the US. That guide went viral, and the SAT ended up being redesigned.
The Teachers Federation is hoping Dr Perelman's report will cause something similar to happen in Australia.
"What we hope it will trigger is that politicians look at this and say, 'Okay, we've got to entirely reshape NAPLAN,'" Fitzgerald says. "It's run its course. We've had 10 years of it. It has corresponded to a decline in national performance.
"What we have now is teaching to the test. Let's invert that. Let's have testing to the teaching."
The Federation also wants parents to take action.
"Rather than spending any time on that guide with a particular child, if the same parent spent 30 seconds ringing the minister for education and suggesting that it's time for a new NAPLAN, that would be a gift to the child."
Mamamia approached ACARA for a comment on Dr Perelman's report.
"Dr Perelman's report assesses NAPLAN through comparison to other standardised assessments which have different purposes and audiences, for example, the American SAT which is a university entrance exam," an ACARA spokesperson said. "NAPLAN is a check on the fundamentals of literacy and numeracy learning."
The spokesperson says ACARA welcomes input on refinements to NAPLAN.
"ACARA has worked over the years to improve NAPLAN and has already reviewed the NAPLAN writing assessment and identified areas for improvement which will be best realised once NAPLAN has moved online."
The cheat sheet can be found here.