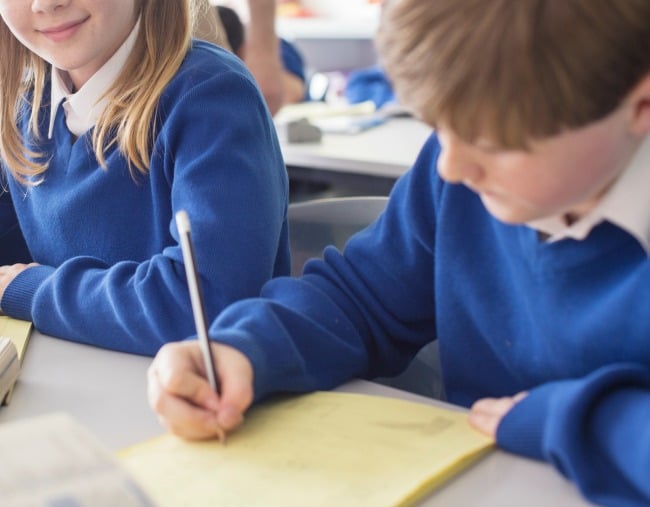 The federal education minister has vowed to take action as new figures show writing skills among school students are going backwards.
Simon Birmingham says he will hold talks with his state and territory counterparts to discuss how to turn the worrying trend around following concerning results from NAPLAN literacy and numeracy tests.
The results from May's tests, released on Wednesday, point to gains across the board in reading and numeracy since 2008, but results for writing have dropped since 2011.
Senator Birmingham said Australia had a high performing education system by world standards but reforms were needed to ensure it kept up.
"It is a worry that writing skills in our children appear to be going backwards," he told the Seven Network on Wednesday.
"That's why we have to not just focus on needs-based funding, but also making sure we get maximum bang for our buck in terms of investment."
The results show gradual growth over the past decade in the number of students performing at the top end, particularly among reading results for Year 3 students.
The Australian Curriculum, Assessment and Reporting Authority says the same trend is evident in other areas although it is not always enough to lift national averages.
"What the 10-year data indicates is that change is happening … and this is to be welcomed," chief executive Robert Randall said.
"If this improvement can be replicated across more domains, years and states, then a lift in average results nationally will be seen."
Senator Birmingham said Australia needed to look at what could be learned from high-achieving schools and how that could be applied in other schools.
The government has commissioned businessman David Gonski to lead a review looking at just that, to report early next year.
Opposition education spokeswoman Tanya Plibersek laid blame with Senator Birmingham's predecessor Christopher Pyne, for scrapping Labor's conditions to make schools use extra funding to drive improved achievement.
Labor's targets included getting Australia into the top five countries in the world for reading, maths and science, lifting teaching quality, and giving principals more power.
Mr Randall said the discussion needed to focus on how to replicate what was happening in top-performing schools.
"We can find cases where schools are doing tremendous things because that's where the difference is made, at the school level," he told ABC TV.
"We do need to pick up on those and say if it's working well in these schools, why can't it work well across a whole range of schools? That's the nature of the discussion we need to focus on."