I've met blokes like Matt before. He's not necessarily a bad person.
He's just a bit of a dick.
And last night on My Kitchen Rules he landed the lowest of blows. In fact, as a long-time fan of the show, I'm calling it as a new MKR record.
He landed the lowest blow in MKR history.
He announced to rival contestant Amy, in front of everyone, that she's punching above her weight in her relationship with Josh.
It was during a conversation about Josh's modelling work that Matt said it. He began by lightly mocking Josh for being a model and then he said:
"Does anyone know what the term 'batting Merrins" means?"
"Nup," most of his fellow contestants answered.
"Anyone who's with someone who's better looking is 'batting Merrins'."
And despite the mortified look on his girlfriend Alyse's face, he explained, "Anyone that's with someone that's better looking or whatever, they say batting Merrins."
And then, just in case he hadn't made his offensive comment clear enough, he clearly stated, "Amy is batting Merrins."
Amy's boyfriend Josh looked distressed and turned to his girlfriend Amy who took a few moments to twig, only because she couldn't believe someone had just said something so cruel about her, on national TV.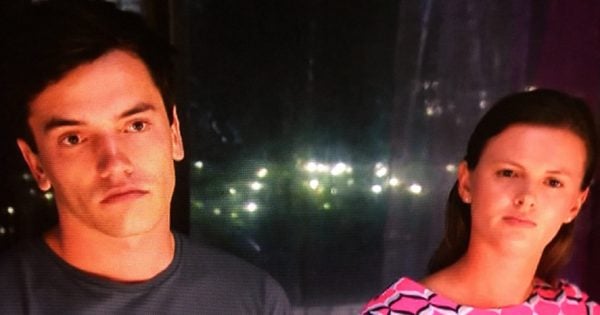 Everyone on the table, including his own girlfriend, turned on him and even then he still continued to justify his mean and classless comment.
"No, no, no, I'm just saying, hey..."
Thankfully everyone at the table drowned him out.