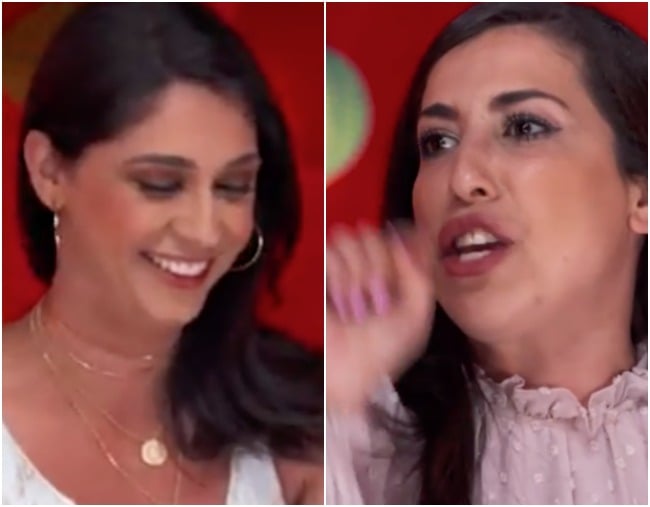 For all your My Kitchen Rules Australia gossip in one convenient place, check out our My Kitchen Rules 2018 hub.
A decade later, friends, and we made it.
We ran a marathon, we climbed a mountain and we sat through hours and hours and hours of mind-numbing TV to reach a point where we could witness two contestants be kicked off a reality show.
What hobbies?
It turns out, tonight was the night Sonya and Hadil were kicked out of the dinner party for throwing incessant jabs at Jess and Emma and, well, anyone else who dared to speak.
Watch the outburst here. Post continues after video.
These are the various insults that got them kicked off the show:
"The fact they are sitting here is an insult to anyone who can cook."
"Keep laughing at them and then they'll explode."
"Disgusting clowns."
"You think you're a princess, but a real princess wears diamonds not cubic zirconias."
"Alright, blow fish."
"I've got a really good doctor to go to fix your ugly face."
"We look natural, you look all gone wrong."
"They don't belong in top 8, because they can't cook."
"I'll come for you and I'll come for you and I'll come for you."
"Disrespectful assholes."
In an interview with The Daily Telegraph ahead of the ratings winner showdown, My Kitchen Rules' judge Manu Feildel said he had no time for their excuses as to their behaviour.
"I really don't care what their excuse was because there's no excuse for this type of behaviour," Manu said.
"I just hope we've sent a message to future contestants that that's not the type of contestants we want in the show. We want cooks. Don't come for a catfight."
TV's best villain answers all our burning questions. Post continues after audio. 
In an especially confusing turn of events, Wednesday's episode of MKR only showed Sonya and Hadil being excused from the dinner party, but not the entire competition.
We assume, ah, we will be waiting for next week for that one. What a surprise!