Last night's episode of The Bachelorette was arguably the best of the season. There was an obscenely sexual kiss with Fireman Cam, a ridiculously nonsensical game where Rhys got fake-injured, and a date with Matty J that showcased his A grade banter.
But perhaps my favourite moment of the show came at the very end, when the guys came together to sing for Georgia. Cam sat her down, joked about stealing Todd's guitar (HAHA but srsly Todd was probs super reluctant to lend it to anyone), and started to sing. Each bachelor had his own line that referenced an experience they'd shared with Georgia, and it was genuinely, dare I say, sweet.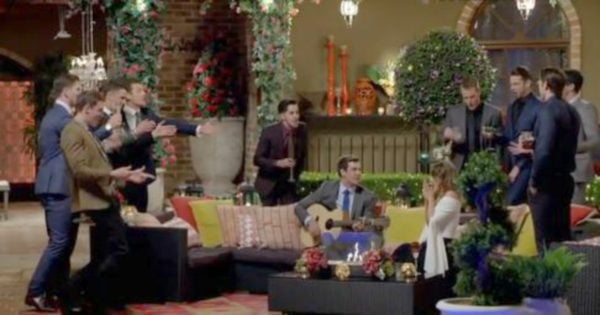 I liked it... a lot.
Our morning in the Mamamia office was fraught with fierce debate over whether the song was lovely or cringey - although ultimately I've concluded that the people who didn't like it are just cynical AF.
But as we were weighing up the merits/shortcomings of the song, a colleague dropped a bombshell:
This isn't the first time the boys on The Bachelorette have composted a song for the woman they're all dating. You guys, the US Bachelorette did it first.
WHY DOES AMERICA ALWAYS OUTDO US.
On the last season of The Bachelorette, songwriter James led the group in writing a song for JoJo.