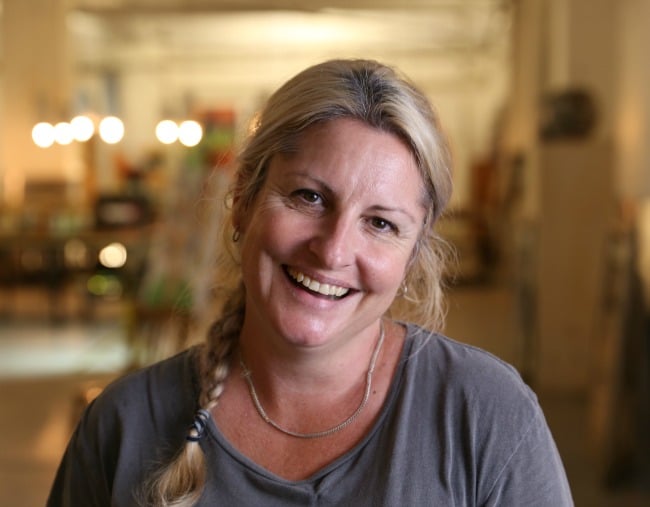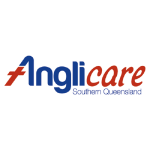 Queensland mum Marie Robertson was on her 15th drink of the day when she had her epiphany on Australia Day in 2009.
The mother of five, and alcoholic of 25 years, realised she wasn't drunk. Despite consuming drinks in the double digits, she hadn't blacked out as she normally would. In a flash of rare clarity, she saw that the oblivion she usually chased wasn't coming to save her.
"There I was, stuck with myself," she now laughs. But back then, it was a literally sobering moment, and one that would change Marie's life. Because in that moment, she decided to save her own life.
Marie had been an alcoholic since the age of 13, and she drank because she wanted to be someone else.
"I didn't know what was wrong with me, but I knew I didn't fit in," the now 46 year old tells Mamamia.
"My mum was an alcoholic but that wasn't why I drank – sure, it got me there faster, but it wasn't the reason. I drank because I loved how I felt when I did. I was more confident, I could talk to the boys, play pool.
"I loved myself, drunk. I chased that feeling for 25 years."
But for more than two decades of her life, Marie's alcoholism was no laughing matter. Marie disease was combined with depression, although it would take five children, a marriage breakdown, an international move – and an Australia Day lightbulb moment – for Marie to understand it all.
Born in New Zealand, Marie met her future husband, Hamish, when she was 19, and the couple moved to Australia when she was 22. She was a waitress, he was a car salesman, and they loved to have a good time together.
"Hamish was a heavy drinker, but not an alcoholic," Marie recalls. They went on to have a large family of five children, but Marie says she managed to control her drinking during her pregnancies.
"I tried my best, but I did do some things I wasn't proud of," she says. "I know I affected my kids the way my mother affected me."
Now nine years sober, a pragmatic Marie can see clearly, and bravely admit without a waver in her voice that, "alcohol takes your mother away from you".
But it wouldn't be until that fateful Australia Day that Marie finally decided that she'd had enough of trying to escape from herself. She joined a 12-step program for alcoholics. It wasn't easy to walk through those doors – and she didn't enjoy it at first.
She chuckles, "I thought my life is over! What do people do that don't drink?"
But what Marie encountered in her first meeting was an incredible, unexpected surprise.
"For the first time in my life, I finally met my 'people'. I finally genuinely felt like I belonged somewhere," she recalls.
The joy of being "part of something" was wonderful to Marie, and it set her on the path to finish the program, and remain in it as a sponsor of other addicts. She also sought and received the help she needed to address her inner demons, and her depression.
Determined to make the most of her recovery, and out of gratitude for it, Marie began to conduct meetings for others, even visiting women's prisons to share her journey in the hope that it would inspire them.
Of course, it did. But six years into her recovery, Marie decided to do another thing for herself – rekindle her love affair with art.
"I hadn't picked up a paint brush in decades, but I loved art as a child," she says.
Once she restarted, she couldn't stop creating art to express herself, slowly gaining confidence and sharing her work on her Marie Robertson Art Facebook page. Proudly, Marie remembers, "Within two years, I had my first solo exhibition in a gallery."
Then last year, a fortuitous post popped up in her Facebook feed by the charity Anglicare, for their Arts&Minds program.
The program is designed to pair unknown artists who have faced challenges, with established artists, in order to demonstrate the role art can play in supporting mental health. According to Anglicare's Arts&Minds website:
"Each year, one in four young Australians suffer from mental illness. Arts&Minds aims to understand and demystify mental health issues, celebrating differences and discovering new ways to communicate."
Marie, who has never even had an art lesson, was chosen to be one of five artists, out of a field of more than 400.
"I was in shock for about a month, I felt so privileged," Marie says, her voice still full of amazement.
She was paired with artist Tracey Kellar, and given eight hours and a one-word brief to create a work of art around mental health. Each hour represented the lives lost each day in Australia to suicide.
The entire process was caught on film and turned into a webseries.
"Tracey showed me you can make a living out of being an artist," Marie says.
"I still can't believe I was chosen and to work with her. Never in my wildest dreams did I think I'd ever be doing this. It's bigger than Ben Hur."
And a lifetime away from the ending Marie always believed she was destined for.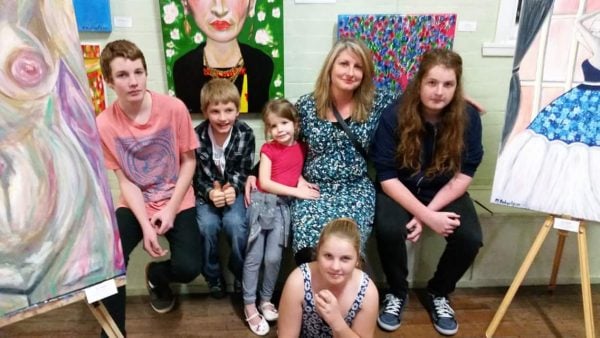 Arts&Minds by Anglicare has released a five-part webseries showing the remarkable journeys of the artists who have done the program. Ten incredible canvases of artwork have been created by these 10 artists, each created over an eight-hour period. The paired artists worked at the same time, and to the same brief to create their pieces, with conversation flowing and connections made, confidence transferred, and friendships forged.
You can watch the webseries and join in the conversation at artsandminds.org.au/webseries/.
If you're suffering from depression or anxiety and need help, or just someone to chat to, you can call Lifeline on 13 11 14 or BeyondBlue on 1300 22 4636. Anglicare also offers counselling services in your area to aid with various life transitions.
This content was created with thanks to our brand partner Anglicare.