The Christmas after my son turned a year old, I bought an industrial-strength Christmas tree. It had built-in lights and decorations. "Soft" and "curved" plastic pine needles. And it was small enough so that my son could attack it, as I knew he would, and it would emerge from the fight completely unscathed (oh and I guess my kid would be unhurt). I searched for this tree for a long time. I spent too much money on this tree.
Because, back then, I didn't turn to a group of other mums for suggestions. I wasn't part of the Kmart Mums Australia group, unlike the mum who this week posted, "CHILD PROOF TREE. Has anyone got any hacks for the tree/presents?"
Of course, the community had loads of excellent ideas. They suggested putting trees and gifts in portacots – brilliant, since most parents already have one. Using pet fences. Finding kid-size trees.
And of course, the tried and true best idea: placing a play pen around your exisiting tree.
Yep, that's right: tree jail.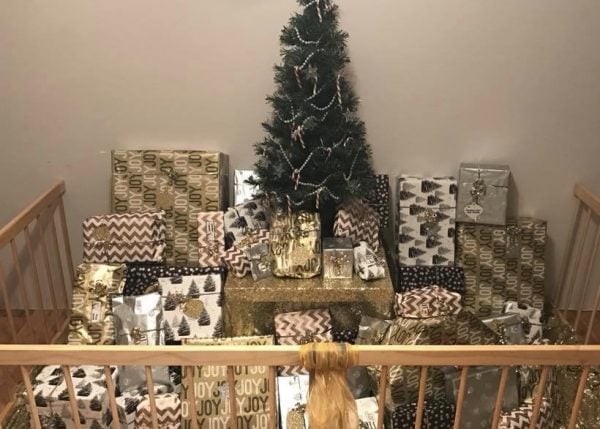 You could also not make your tree too tempting - hahahaha, as if anything is ever not tempting to children, let alone objects covered in bright, shiny things.
Persistent parenting was suggested, but that sounds like a lottttt of effort.
So, we found some other genius hacks to kid-proof your Christmas tree.
There's the anti-gravity tree:
The "She's dead, wrapped in plastic" tree, hacked to be kid-proof and not just a storage idea:
And finally, a "toy" tree - that is covered with the friendliest of decorations - your child's own toys.
So go forth and erect your tree with the spirit of giving...yourself peace of mind!
You're welcome. Merry Hackmas!
Listen: Just how effective is the Elf on the Shelf at getting kids to behave?