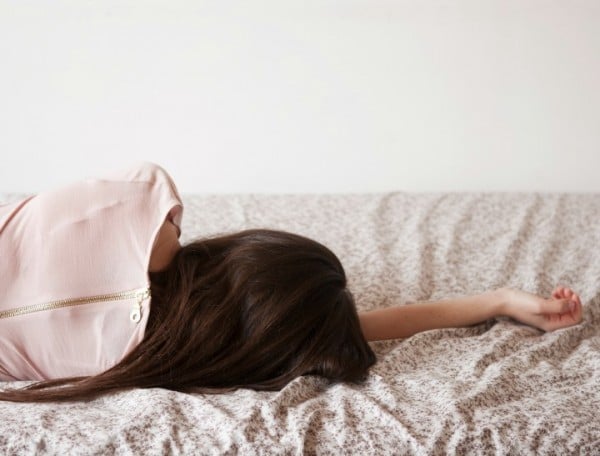 By Gayle Saks from Kveller.
My mother spent so much time in bed that there was a perfect indentation of her body on the mattress. Picture a chalk body image of a victim at a crime scene stuck in one position for all eternity. Now picture this in a completely darkened room, blackout shades drawn but not quite dark enough for her liking as she still found a sleep mask necessary to aid and abet the total darkness.
Like Debrief Daily on Facebook. 
My mother's profound manic depression was textbook. The ups and downs were rather dizzying for me to handle as a teenager, but after my parents' divorce, I was the one left to manage and monitor these rollercoaster moods.
It was very clear that the chemical/biological factors behind my mother's depression were significantly exacerbated by her experience as a Holocaust survivor. Maybe she was somehow replicating the conditions she experienced for two years in a dark basement as a hidden child in a private home in Belgium. Maybe this was somehow a comfort for her. To me, however, every time I walked into that room, I experienced a slight bracing of myself, a trepidation as I would tiptoe to her side not really knowing how bad it would be this time.
I'd gently sit myself down in the little nook created by the curve of her knees and ask if she was OK, if she needed anything. Sometimes she would ask for a glass of orange juice or a piece of a large Hershey bar that we always had in our refrigerator. Other times she wouldn't ask for anything but I knew she was happy that I was there. I have memories of watching Shirley Temple movies with her in bed. Shirley Temple made her very happy, although temporarily. I knew that a switch inside her would eventually be flipped and she'd burrow back into her protective abyss, never knowing when she'd emerge.
My brother would come over on the weekends to help her pay her bills that she always tucked between a pillow and arm of the couch. He too was pulled into the role of caretaker, but like everything my brother does, he did it with patience and a smile. It was hard to witness what I felt to be feigned helplessness. Yes, my father had undoubtedly taken care of everything for her during their 25-year marriage, but at 14, I was already frustrated by her inability, or laziness, in trying to be independent.