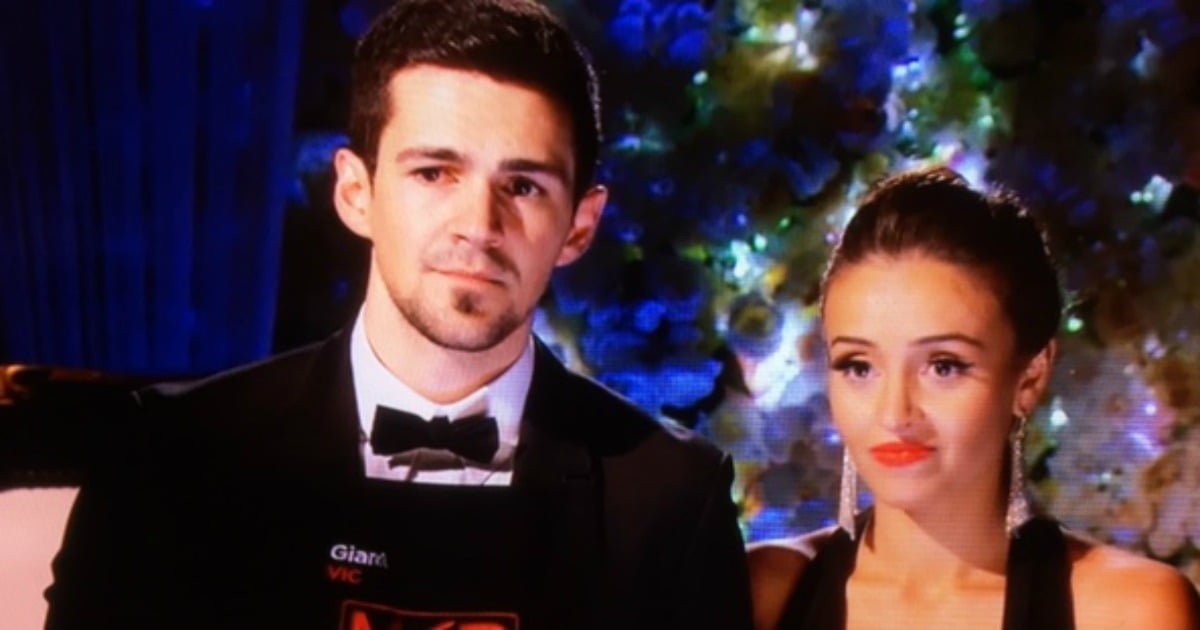 Last night was meant to be the night. The big one. The epic smackdown of the lawyer couple who have so many tabs on themselves they look like a brief of evidence (#lawyergags).
If you've been tuning into MKR this season, you'd know the sneaky producers saved Gianni and Zana's instant restaurant until last, lulling us into a false sense that they would screw it up and get their comeuppance.
The ads, which featured a smoke-filled kitchen and ugly crying, made us believe the couple who spent every other instant restaurant carefully tearing apart each dish that deigned to appear before them would finally have revenge inflicted upon them by way of humiliating, televised failure (circa the Cougar and Cub's disastrous efforts).
But, 'twas not to be.
Much to the dismay of the entire nation, the Ariana Grande and Shannon Noll lookalike Victorian couple smashed the entire bloody meal, dammit.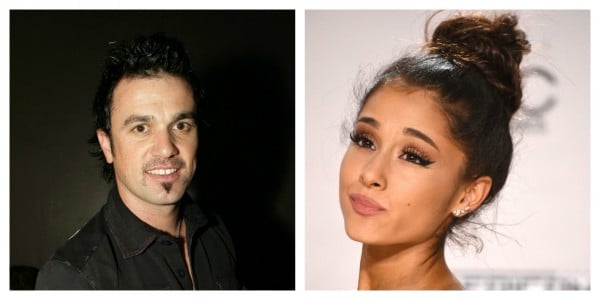 Somehow, Gianni managed to concentrate through his wife's instructions – which included: "Do exactly as I say", "Run, run, run, run, run, run", "Turn, turn (the doughnuts)" and "Make sure you choose (onions at the supermaket) that haven't been touched with germs" – and the over-achieving "never-made-or-ordered-a-pie" duo apparently prepared a lovely tasting meal without any undue delay.
Their restaurant – named Monte Nero – paid hommage to their Albanian and Italian roots and was decked out in finery, as were its guests, with Cougar Cheryl giving a little nod to Princess Leia in her outfit choice.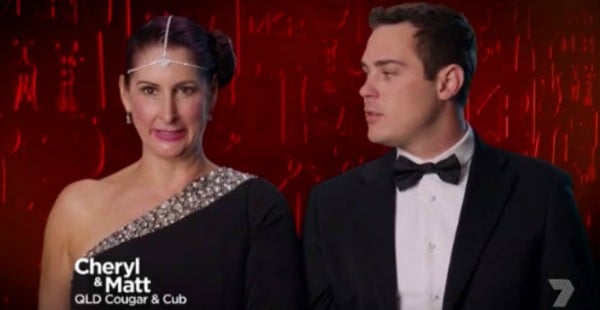 The wheels almost fell off… but not really.
The guests, like us viewers at home, were sure the villains had "talked themselves into a corner" and were about fall straight off their very high horse.
There were threats of the night derailing. Like when their very fancy car malfunctioned (or Gianni accidentally pressed the horn, we're not sure). Or smoke billowed out of the oven (nothing was burning, except some leftover beetroot juice from an earlier course).
Watch: Lauren from Mamamia goes on a date with Manu. Post continues below. 
But, the smug lawyers (whose meals were not marked down for their wanky names) just served up dish after exquisite dish, barely breaking a sweat.
In fact, Zana was so cool she even nailed her own dirty #lawyergag, with: "(Manu) can approach my bench anytime." Nice.
"Manu can approach my bench anytime…" #TheManuEffect https://t.co/tQSupuUJYJ

— #MKR (@mykitchenrules) February 9, 2016
The dishes.
For entrée, it was Albanian pita (featuring homemade filo pastry) with beetroot hummus.
First up, entree! What do you think? #LegalEagles #MKR pic.twitter.com/6GKTSKI1qv — #MKR (@mykitchenrules) February 9, 2016
Manu was "devastated…. [insert ad break] that I don't have any more to eat" – a reaction that set off Zana's inappropriately over-the-top balling.
#Zana be like "thank God for waterproof mascara" #mkr @mykitchenrules pic.twitter.com/cn7u6E2Ckz — Lillian Saleh (@LillSaleh) February 9, 2016
Main was crumbed calf livers (seriously, this has got to taste a little bit shit, we thought…) and Albanian peppers. But, no, it was pretty much a yummy chicken schnitzel that inspired these insightful words from judge Pete Evans: "This is wow. This is next level."
And here comes the livers… #LegalEagles #MKR pic.twitter.com/wPEIcNakg3

— #MKR (@mykitchenrules) February 9, 2016
Lastly, dessert was krofne (which is apparently just a doughnut) filled with hazelnut ganache. The lady cops were too mesmerised by their delicious dessert to even be offended by the cops-love-doughnuts gags being thrown their way.
Last dish of the night! What do you think? #LegalEagles #MKR pic.twitter.com/UIDo7sD2k3 — #MKR (@mykitchenrules) February 9, 2016
The judges managed to come up with one criticism (because suspense), being that the quality of the chocolate used was sub-par.
And Cougar-Leia, who was coming last on the leaderboard, naturally had a go, saying they tasted like store-bought doughnuts (which seems more like a compliment to us).
But in the end, needing only to beat the Cougar and Cub's disastrous score of 30-something – the Victorian couple, unfortunately, completely obliterated the competition with a total score of 97. And Cheryl, 50, and her 26-year-old cub were booted.
The plus side? With the villains still around the cutting comments will continue into the next part of the show.
Love MKR? You need to hear Rosie Waterland on The Binge, Mamamia's new TV podcast. This week, what REALLY goes on behind the scenes on MKR, by someone who knows. SUBSCRIBE in iTunes now.