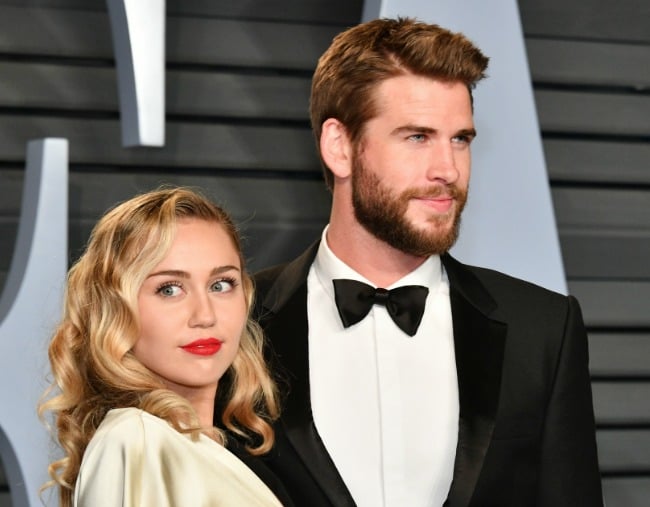 In the eight years Miley Cyrus and Liam Hemsworth have been in love, the 25-year-old pop star has gone from Disney sweetheart, to rebellious provocateur, to hippie flower child, to an endearing concoction of all three.
Her love with Hemsworth, 28, has weathered conflicting schedules (a sword to the heart of basically every celebrity relationship, you know, ever), Hollywood, Robin Thicke's foam finger, twerking, cheating rumours (Perez Hilton linked Cyrus to actor Ed Westwick in 2013), a broken engagement, some more twerking, and a reunion.
It's been about as straightforward as the seventh Harry Potter book, really.
But now – countless tattoos and red carpet appearances and cryptic tweets later – it appears Miley Cyrus and Liam Hemsworth could really be dunzo.
Here's what the celebrity rumour mill is churning out today. You be the judge.
1. The deleted Instagram photos
As someone who has stared blankly at the bottom of a Doritos packet, fingers covered in orange salt, heart shattered with betrayal, I know all too well the urge to delete one's online existence after a breakup.
Cyrus' 76 million fans were curious/panicked/DEVASTATED (it really depends on which publication you read) to find she wiped her Instagram account clean overnight. Every image, meme, and hashtag was deleted by the songstress – including dozens of Hemsworth – and this could be pencilled down to a broken heart.
But hold your horses, because it could also be pencilled down to Cyrus' savvy PR people; who observed the success Blake Lively had when she deleted her Instagram presence in May 1 to publicise an upcoming movie.
Oh, and a five-second investigation shows Hemsworth's last post with his fiancée was in March. I'd like my prize in investigative journalism to be couriered, if possible.
Conclusion: It's a bit of a 50/50. Cyrus is either covered in a fine dust of cheese right now, or in a studio preparing to release more #Bangerz in a shiny new album.
2. The tabloid "source"
Within hours of Cyrus' missing Insta photos, OK Magazine Australia pressed publish on an article claiming the duo has split; citing conflicting family plans as their main source of tension.
Basically, Liam wants bebes five minutes ago. Miley wants to not think about having bebes for a long time.
"He wants kids and doesn't want to keep putting it off but it's not quite the timeline Miley had in mind… he is left heartbroken," a 'source' told the tabloid mag.
"Miley put off plans for the wedding and Liam was growing tired of it… They haven't been getting along in recent months."
But. There's a but.
If a source is not named, we reserve the right to remain sceptical.
Conclusion: If it wasn't for point 3, I'd say this was a fantastic piece of fiction, however…
3. The interview
In September last year, Cyrus admitted that despite being engaged to Hemsworth, a wedding, marriage, and babies are not on her agenda.
"I don't envision marriage. I'm 24. I hope I get to live a little bit more," she told The Sun on Sunday. "I have too much living to do [before I get married]."
It's not yet clear if Cyrus understands what the point of… being engaged… is.
"Three years ago, if you'd asked me if I'd be here, this happy with this man, I'd have been stunned. I'm just riding this out. In some relationships, you lose yourself by being with someone else. Actually, it made me find myself more. I have no idea what the next three years will bring, but if it's possible to get even happier, I'll take it."
Conclusion: Look, I don't have the faintest clue. What I will say is these quotes do weirdly tie in with rumours that Cyrus has continually pushed wedding plans back. Also, if you've been engaged twice, collectively for years at a time, it's not ludicrous to think one partner might be a teeny bit frustrated with stagnation.
Then again, I'm currently sitting in Melbourne and just took a gulp of cold tea by accident, so the state of Cysworth's relationship perhaps shouldn't be placed in my hands.
You tell me.
For more from Michelle Andrews, follow her on Instagram or Facebook.