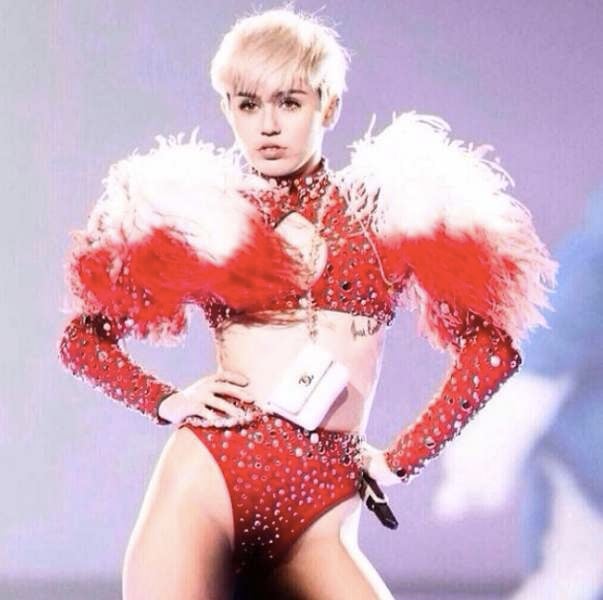 Miley, Miley, Miley. What have you done this time?
The 21-year-old Wrecking Ball singer is a one-woman scandal magnet, we know that already. Every time she forgets pants in public, sticks her tongue out, or grinds up against an innocent dwarf, she gets slammed by the media. But this time she might actually be in real, financially disastrous trouble.
There are reports the pop star is in crisis talks with her management as parents in the US and Canada freak out about lewd acts their underage kids have seen on stage at Miley's concert. Venues and sponsors are apparently spooked by the parental outrage and there's been real talk about cancelling her "Bangerz" tour.
But surely it can't be that bad.
It's not like Miley's grabbing a fan's unwashed g-string and cramming it in her mouth in front of twelve years old fans, AmIRight?
Oh. That's exactly what happened?
Right. Ah. This is awkward.
Ok, with that little anecdote, let's kick off…
Five moments Miley Cyrus went too far (this week)
1. Putting a fan's underwear in her mouth.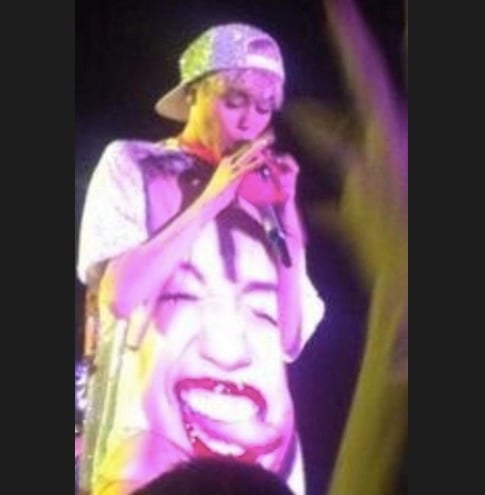 2. Masturbating on a car.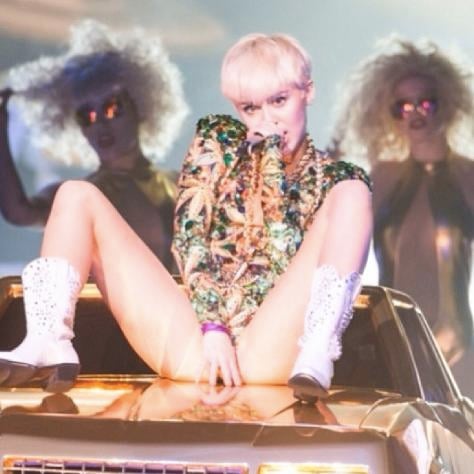 3. Grinding on a dwarf wearing a KKK uniform.
4. Advertising her merchandise with a close-up butt selfie.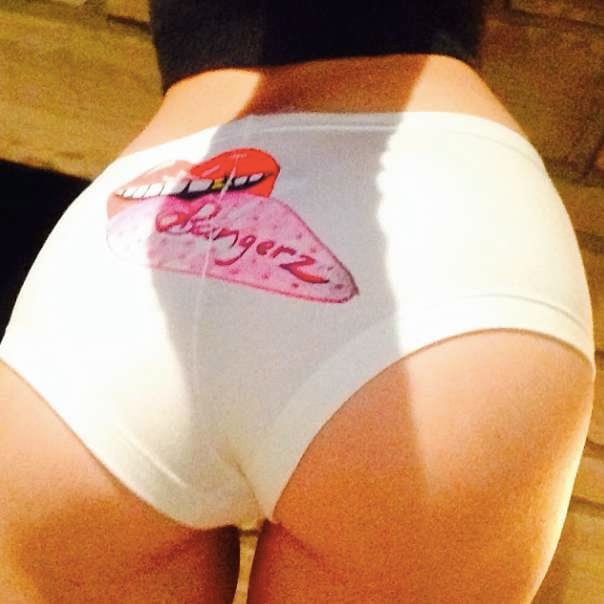 5. Simulating oral sex on a Bill Clinton impersonator.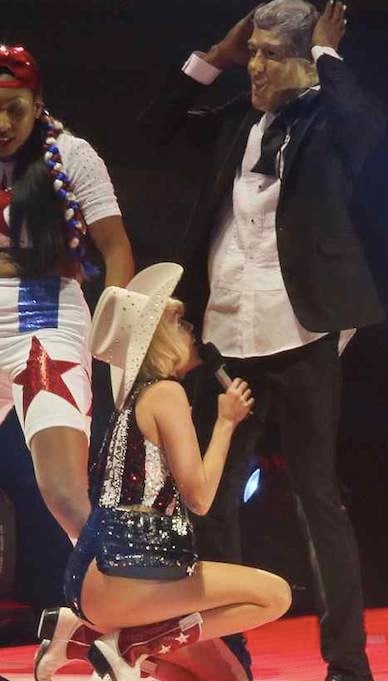 World stop – Jerry Hall has cut her hair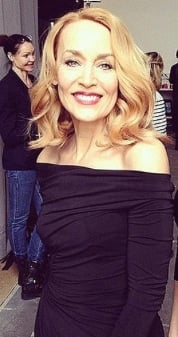 Please, sit down. Get a coffee. Listen.
Jerry -Hall – has – cut – her – hair.
And guess what?  It's the first time scissors have touched her golden mane for forty, yes you heard correctly, FORTY years.
The iconic supermodel has been swishing and swooning with her Veronica Lake waves for longer than most marriages.  That means the 57 year old last had a haircut at the tender age of seventeen.
We didn't even need a calculator to work that out.
The mother of Supermodel Georgia May Jagger, who also favours the long blonde hairdo, posted on her twitter feed:
'#Surprise !! .. I have cut off my long locks and got the short "Lob" haircut. Thanks to the @lorealpro team!'
According to L'Oréal, the shock decision was made completely on impulse:
'It wasn't planned. [Jerry] made an impulsive decision during a photo shoot.'
We think Jerry looks incredibly glamorous with her new 'lob.' What do you think?
Look at all these glamour models from the '70s…
Hollywood steals one of our favourite leading men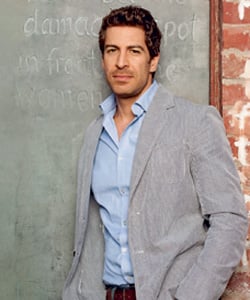 Sigh. Deep, sad, lustful sigh.
One of our favourite television leading men has been scooped up by Hollywood.
Don Hany, who stole our hearts as Dr Chris Havel on Offspring, has just landed his first major role in America. The hunky hunk will star in a military medical drama called Warrior.
Apparently, the role was coveted by heaps of American actors, but the casting agents in LA couldn't take their eyes off Hany.
We know how you feel, clever Hollywood producers, we know how you feel.
Jennifer Hawkins shows us how Autumn fashion's done
J-Hawk (can we call you J-Hawk?) kicked off the MYER Autumn/Winter fashion show last night, and we know you want to see all the gorgeousness in one place. Here's a sneaky-peak at how to stay smoking hot when it gets cold…  Thanks, Jen. 
Olivia Wilde slams Hollywood for making too many moves about women obsessed with men
Phwoar. This is a seriously great rant about women's roles in films from actress/producer Olivia Wilde. 
Check out what happened when she got a bunch of men and a bunch of women together and got them to switch gender roles…
She's speaking here about the state of justice for women across the world and how beautiful people like her can help address the systemic disempowerment of women.
SO MUCH APPLAUSE.
Patrick Stewart hilariously responds to totally incorrect gay rumours
73-year-old heterosexual Star Trek / X-Men actor Patrick Stewart is a true gentleman.
Just the other day, a journalist for The Guardian newspaper "outed" the actor by accident/wishful thinking. Journalist Jane Czyzselska wrote in an article about Ellen Page last week: "Some gay people, such as Sir Patrick Stewart, think Page's coming out speech is newsworthy'.
Stewart's wife, singer-songwriter Sunny Ozell, certainly found it newsworthy to hear that her husband of six months was gay…
Many other celebrities (for example, a man whose name rhymes with Com Truze) might have sued the journalist or blown up at the paper for insulting their hard-earned manliness. But not Sir Patrick.
This is how he reacted.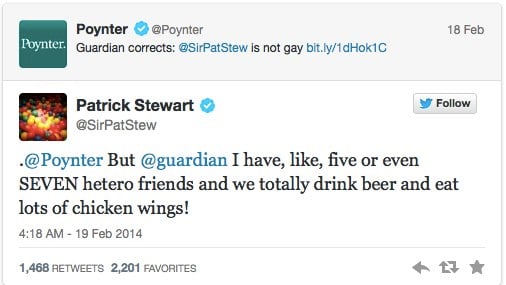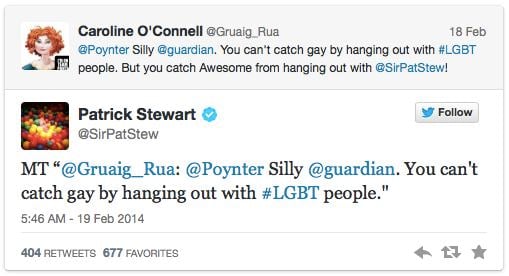 We think the journalist may have mistaken Sir Patrick for his best friend, Sir Ian McKellan, who is in fact gay.
Their friendship is a bromance for the ages. Just check out the adorable evidence.