After a huge reaction to her post about her latest birthday cake drama this week, we decided to ask Mamamia co-founder Mia Freedman some hard questions.
MM: Ok, so what have you done now to bring cake shame on yourself?
Mia: It was my daughter's 12th birthday and she's on school holidays so she decided to make herself a birthday cake. I got home from work and it was still in the oven and we had family coming for dinner so I thought I would help things along by turning up the oven. I didn't turn it up much. Just from 160 degrees to 180 degrees but I also put it on fan-forced which  – it turns out – makes it much hotter.
MM: Don't you know anything about ovens?
Mia: Apparently not.
MM: Then what happened?
Mia: Well, people arrived and we sat down to eat dinner and the next thing I know I hear my daughter shouting at me from the kitchen that I've burned her cake. Which I had. Really badly. Because I forgot about it and she didn't know I'd turned up the heat. So yes, I managed to burn a birthday cake I hadn't even made. Even for me this was a new low, admittedly. So I shouted back, "I WILL FIX THIS" and got out a knife and tried to saw off the burnt bits from the cake which was pretty hard because it was burnt on the top, bottom and all the sides.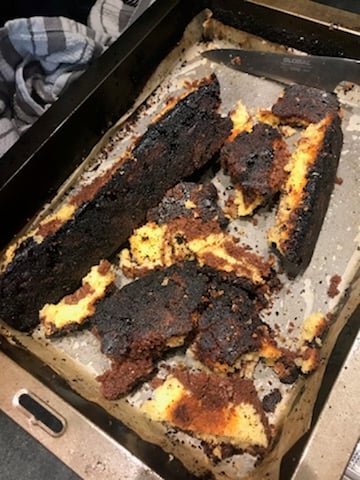 MM: How the hell did you salvage that mess?
Mia: Well, by this time the cake was a fraction of its original size but I grabbed some Betty Crocker icing out of the cupboard and some emergency sprinkles and iced the sh*t out of that hot burnt cake.
MM: Why are there only three candles on it? Wasn't your daughter turning 12?