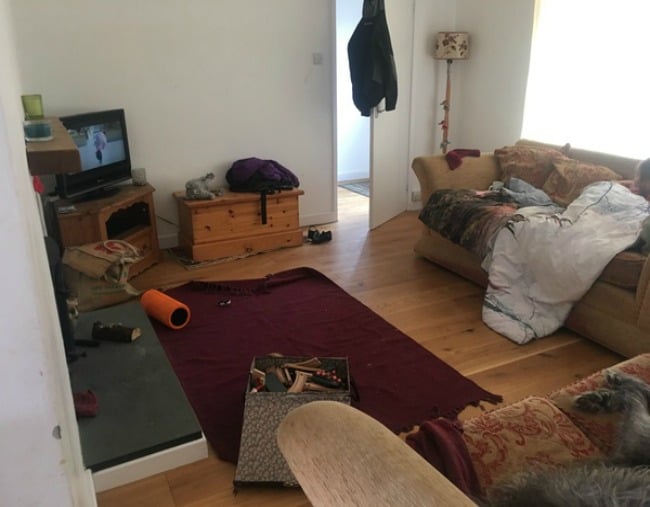 What does your living room look like right now? Would you be brave enough to post a photo of it online, as is?
Well, my living room contains a Christmas tree (what month are we in again?), a bag of rocks (for an art project), a toy dragon wearing a child's underpants (clean) and 53 books stacked in piles in front of the TV. And no, I wouldn't be brave enough to post a photo of it online and ask people for their opinions.
One woman on the UK website Mumsnet, calling herself WildFeralLife, was brave enough. Heading her post "Is my living room a mess by your standards?" she wrote, "No matter how much I tidy it, it always seems to end up at this point. To me it's neither tidy nor messy."
The photo shows a living room with a four-year-child snuggled under a doona on one couch, and a deerhound on the other couch. There are a few things on the floor.
The thread went bonkers. Almost 500 people replied (roughly 400 times more responses than most Mumsnet posts get), and some of them didn't hold back.
"Sorry, but that is so messy," posted one. "I couldn't live like that!"
"Too messy for me but not awful," said another. "The bags and coat randomly hanging/lying around would get me twitchy."
"It's a tip!" declared another, before launching into a detailed description of how the room should be cleaned up, including plumping up the couch cushions and "binning" some of the items.
But others didn't think it was that bad.
"It looks totally normal to me – and tidier than mine," wrote one. "My living room is a clutter magnet. But everyone comes round ours for coffee/play, etc, because 'it feels so cosy', so obviously not a problem. I am very aware that 'it feels so cosy' is also a euphemism for, 'It is not tidy so you won't mind the toys coming out, the kids eating and drinking and having unbridled fun whilst we drink coffee and don't need to worry about coasters, etc.' But hey-ho."