For everything Prince Harry, Meghan Markle and the Royal Wedding, visit our Royal Wedding hub.
The wedding of Prince Harry and Meghan Markle – the now Duchess of Sussex, was different to every other Royal Wedding before it.
The ceremony was a beautiful blend of English tradition and Meghan's part African American heritage, including a gospel choir rendition of Stand by Me, and a sermon by powerhouse preacher Michael Curry.
However, there was another blink-and-you'll miss it detail that shows that Meghan Markle will be a royal like none other before her.
Ms. Meghan Markle, wearing a #Givenchy Haute Couture wedding gown designed by #ClareWaightKeller to the #RoyalWedding pic.twitter.com/nmWB71GzNm

— GIVENCHY (@givenchy) May 19, 2018
As reported by Kensington Palace, the Duchess wanted her wedding to represent all 53 countries of the Commonwealth in some aspect and in keeping with her wishes, Clare Waight Keller delivered.
The artistic director of Parisian Haute Couture house Givenchy and designer behind her wedding dress orchestrated a veil which incorporated the distinctive flora of each Commonwealth country. They were all hand-embroidered into the trimming of the veil.
Ms. Markle expressed the wish of having all 53 countries of the Commonwealth with her on her journey through the ceremony. Ms. Waight Keller designed a veil representing the distinctive flora of each Commonwealth country united in one spectacular floral composition.

— Kensington Palace (@KensingtonRoyal) May 19, 2018
In a statement released by the Palace it stated that "Ms. Markle wanted to express her gratitude for the opportunity to support the work of the Commonwealth by incorporating references to its members into the design of her wedding dress."
"Significant time was spent researching the flora of each Commonwealth country and much care was taken by Ms. Waight Keller to ensure that every flower is unique," it read.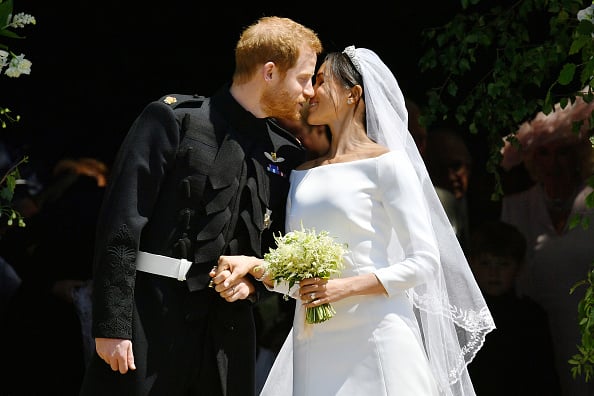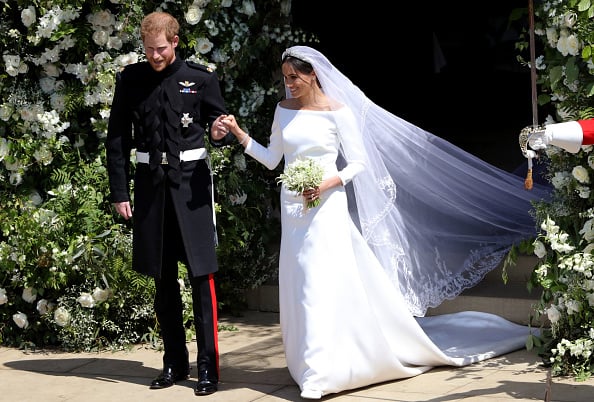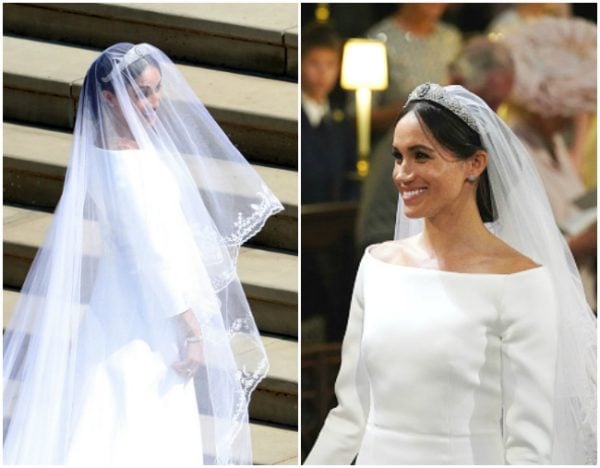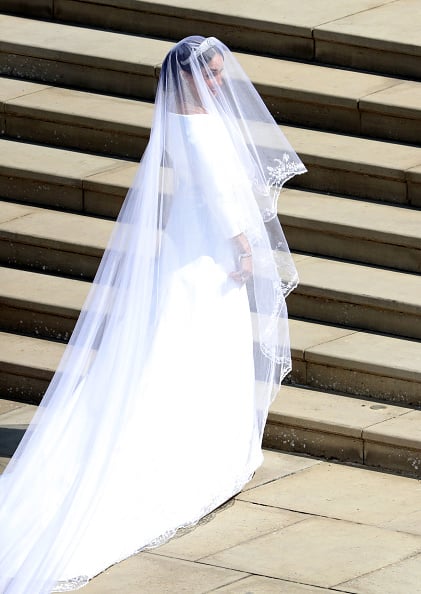 Along with the 53 flowers, Meghan Markle also personally requested the addition of another two, flowers which were symbolic of the couple's English and American union.
Wintersweet - which grows in the grounds of Kensington Palace in front of Nottingham Cottage (where the couple got engaged) and California Poppy - which is the state flower of Markle's place of birth, California.
Two crops of wheat were also embroidered into the front of the veil, which symbolise love and charity.
Here is the list of flowers associated with each Commonwealth nation:
Pacific:
Australia - Golden wattles (Acacia pycnantha)
Fiji - Tagimaucia (Medinilla waterhousei)
Kiribati - Bidens Kiribatiensis
Nauru - Calophyllum
New Zealand - Kowhai (Sophora microphylla)
Papua - Sepik Blue Orchid (Dendrobium lasianthera)
Samoa - Teuila (Alpinia purpurata)
Solomon Islands - Hibiscus (Hibiscus)
Tonga - Heilala (Garcinia sessilis)
Tuvalu - Plumeria (Plumeria frangipans)
Vanuatu - Anthurium (Anthurium)
United Kindom:
England - Rose
Wales - Daffodil (Narcissus)
Northern Ireland - Flax flower
Scotland - Thistle
Europe:
Cyprus - Cyclamen Cyprium (Cyclamen cyprium)
Malta - Maltese centaury (Cheirolophus crassifolius
Caribbean & Americas:
Antigua and Barbuda - Agave (Agave karatto)
Bahamas - Yellow Elder (Tecoma stans)
Barbados - The pride of Barbados (Caesalpinia pulcherrima)
Belize - The Black Orchid (Encyclia cochleata)
Canada - Bunchberry (Cornus canadensis)
Dominica - Carib Wood (Sabinea carinalis)
Grenada - Bougainvillea (Nyctaginaceae)
Guyana - Victoria Regia Water Lily (Victoria amazonica)
Jamaica - Lignum Vitae (Guiacum officinale)
Saint Lucia - The rose and the marguerite
St Kitts and Nevis - Poinciana (Delonix regia )
St Vincent & the Grenadines - Soufriere Tree (Spachea perforatais)
Trinidad & Tobago - Chaconia (Warszewiczia coccinea)
Asis:
Bangladesh - White Water Lily ( Sada shapla)
Brunei Darussalam - Simpor (Dillenia suffruticosa)
India - Indian Lotus (Nelumbo nucifers gaertn)
Malaysia - Bunga Raya Hibiscus (Hibiscus rosa sinensis)
Pakistan - Jasmine (Jasminum officinale)
Singapore - Vanda miss Joaquim Orchid (Miss Joaquim)
Sri Lanka - Blue Water Lily (Nymphaea nouchali)
Africa:
Botswana - Ear of Sorghum and Cat's Claw (Uncaria tomentosa)
Cameroon - Red Stinkwood (Prunus africana)
Gambia - White Variety Orchid
Ghana - Caladium (Caladium)
Kenya - The Tropical Orchid
Lesotho - Spiral Aloe (Aloe polyphylla)
Malawi - Lotus (Nymphea lotus)
Mauritius - Trochetia Boutoniana
Mozambique - Maroon Bell Bean (Markhamia zanzibarica)
Namibia - Welwitschia (Welwitschia mirabilis)
Nigeria - Yellow Trumpet (Costus spectabilis)
Rwanda - Torch Lily (Kniphofia uvaria)
Seychelles - Tropicbird orchid (Angraecum eburnum)
Sierra Leone - Scadoxus (Scadoxus cinnabarinus)
South Africa - Protea (Protea cynaroides)
Swaziland - Fire Heath (Erica cerinthoides)
Uganda - Desert rose (Adenium obesum)
United Republic of Tanzania - African violet (Saintpaulia)
Zambia - Bougainvillea (Bougainvillea)
Got a thing for weddings? Well that's good news because in two weeks we will be releasing our first ever weddings podcast, Hitched. It's your no-nonsense guide to planning a wedding without losing your marbles.