Ever since the public first realised that Meghan Markle and Prince Harry were very much a thing, it's been well documented that the American actress' style is rather different from that of her royal soon-to-be sister-in-law, Kate Middleton.
The 36-year-old Suits star's style has traditionally been more 'chilling in a California cafe' than 'ready to rule the Commonwealth'.
But since news of their engagement, it's been noticed that Meghan has slightly upped the 'royal-ness' of her outfits. (If a AU$97,000 engagement dress doesn't scream PRINCESS we don't know what does).
It's rumoured the actress was even forced to give up – gasp – displaying her knees or thighs when things with Harry started to get serious. Apparently, knees are just not becoming of a royal.
LISTEN: Why Meghan Markle is the role model young women need right now.
Cut-off shorts and mini skirts aside, it's safe to say that Meghan has maintained her own unique sense of style: she even wore ripped jeans the first time she and Harry stepped out together in public.
What. A. Boss.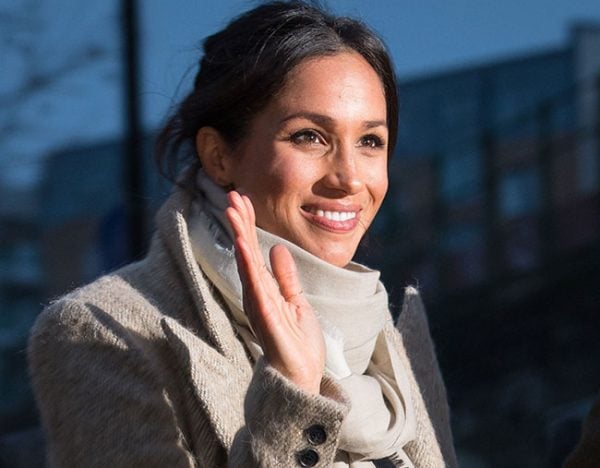 But there's one style tip it seems Meghan is all too happy to pick up from her almost-sister, and it's one that's made both women a favourite with both the fashion-focused and budget savvy.
During a visit to British radio station Reprezent FM with her fiancé, Meghan was spotted wearing a black wool jumper from budget-friendly British retailer Marks & Spencer.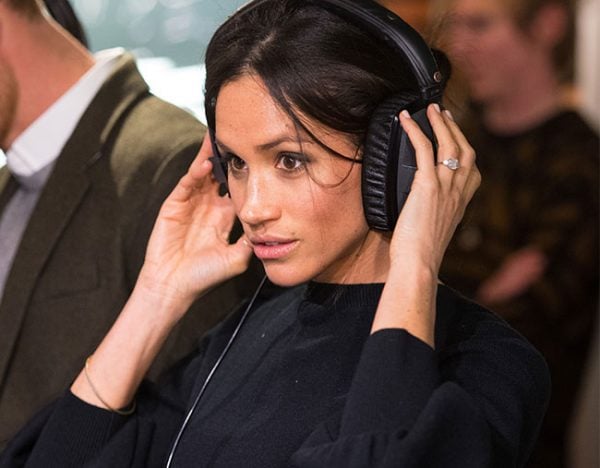 The Wool Blend Round Neck Bell Sleeve Jumper is actually on sale, and is priced between just AU$36 and AU$77.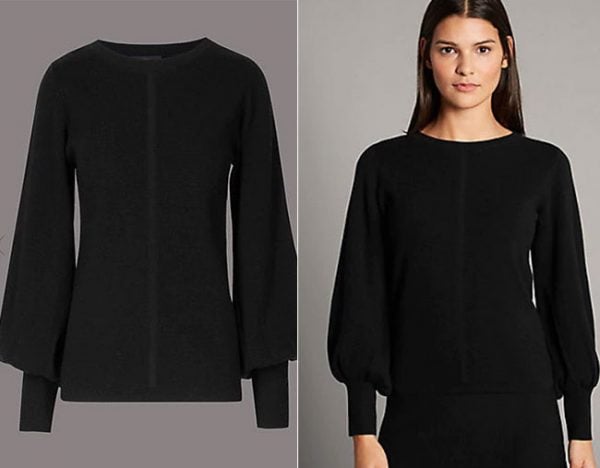 The jumper was paired with pants from designer label Burberry and a scarf from high-street store Jigsaw.
The mix of 'high and low' fashion is something the Duchess of Cambridge has been doing for years. So much so, that pieces she wears out and about are often spotted, snapped and sold out before shoppers can even grab their purse to head to the mall.
(For the record, Kate is a big fan of these sneakers which are available online at The Iconic.)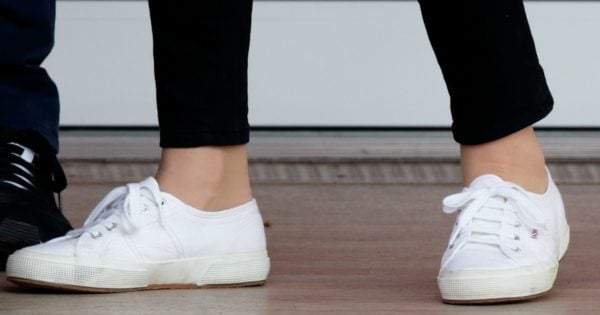 It's a phenomenon known as the "Kate Middleton effect" and it seems Meghan (and her fans) may be following suit: the bag Meghan was spotted holding while walking with Harry in early December sold out in just 11 seconds, a spokesperson for the brand told PEOPLE magazine.
"The phones began ringing constantly and our visitor numbers on our website were up by around 5000%!" Strathberry spokesperson Leeanne Hundleby said, adding that a further ,000 people were on the waiting list for when the bag came back in stock.
But there's another 'royal rule' when it comes to style that Meghan is all too happy to buck: the trend of having perfectly primped princess hair.
Whenever Kate steps out on in public, barely a hair is out of place. As for Meghan? While her hair is still the stuff of our wildest dreams, it's much more relaxed.
She even stepped out with a messy bun during her latest public outing. We know. It's SHOCKING.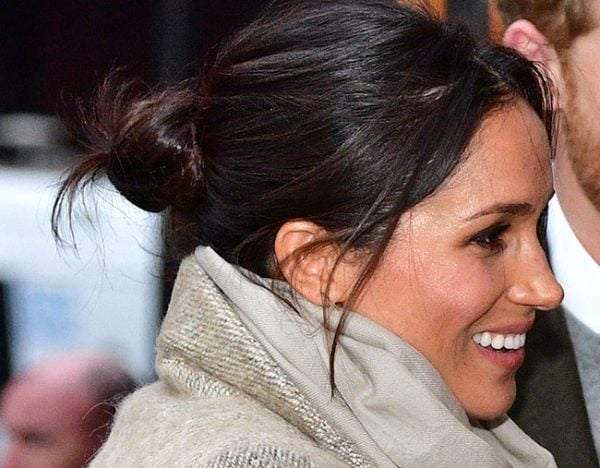 However perfect Meghan's messy bun may look, it's a hairstyle we're quite certain we've never seen Kate Middleton wear...and we probably never will.
For everything Prince Harry, Meghan Markle and the Royal Wedding, visit our Royal Wedding hub.