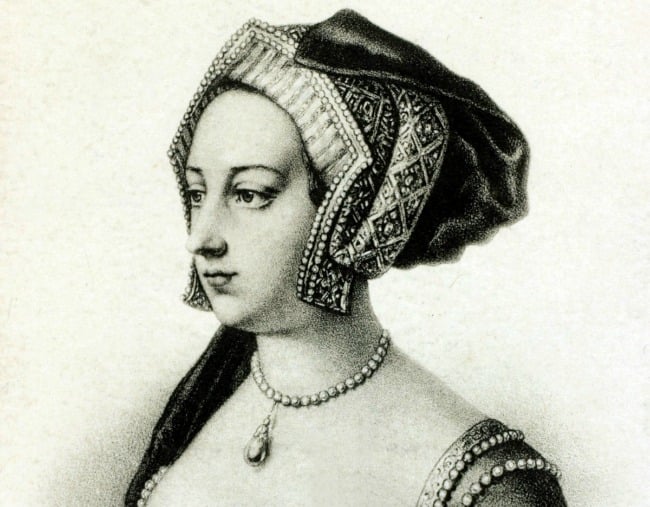 For everything Prince Harry, Meghan Markle and the Royal Wedding in one convenient place, visit our Royal Wedding hub.
The royal wedding is only 29 days away and yes we are counting down because holy mackerel we are excited.
For many months now, the world has pored over the minute details of Prince Harry and Meghan Markle's big day – from the wedding invitations to the flowers and the banana cake.
But one detail has.. well… slipped under the radar. And that's the dark significance of the date itself in British royal history.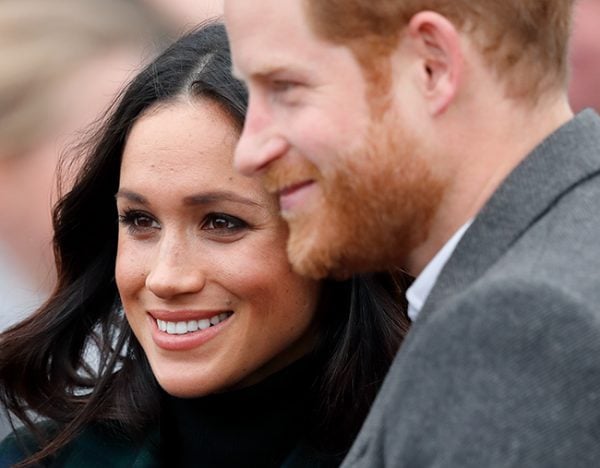 Because, as it turns out, Meghan and Harry will share their wedding anniversary with the anniversary of Anne Boleyn's execution. Yes, that's the Anne Boleyn.
On May 19, almost exactly 482 years ago, the former queen's beheading was arranged by Henry VIII, arguably England's most famous, tyrannical king.
Of Henry VIII's six wives, she is most well-known. She was his second wife and therefore the woman behind his push to break from Catholicism and place the Church of England under his control, simply because he wanted a divorce so he could marry her. Anne also gave birth to the long-reigning Queen Elizabeth I. And, three years after her daughter's birth, she became the first English queen to be publicly beheaded.
Her story is a dark one, but also one of the more captivating tales of the Tudor period.
Her relationship with Henry VIII was dripping in scandal from the moment it began. In 1522 and in her early 20s, Anne was appointed lady-in-waiting to the king's first wife, Catherine of Aragon, and it wasn't long before her "striking looks and sophisticated manners" drew many admirers. Henry VIII, who was about 10 years her senior, couldn't help but set his sights on her. He'd already had an affair with her sister Mary, but he grew infatuated with Anne.
He showered her and her family with gifts, and by 1525 he was writing her love letters trying to convince her to become his mistress. According to Biography, he wrote in one: "If you ... give yourself up, heart, body and soul to me ... I will take you for my only mistress, rejecting from thought and affection all others save yourself, to serve only you."
At first, she rebuffed him. She didn't want to be 'the other woman' only to be dropped like her sister had been.
"Your wife I cannot be, both in respect of mine own unworthiness, and also because you have a queen already. Your mistress I will not be," she wrote to him.
But after a few years, she gave into his advances and in 1533 she was pregnant with his child. For Henry VIII, this was momentous.
His then wife, Catherine, had suffered difficult pregnancies. Two ended in miscarriage, two babies were stillborn and two others died as newborns. She did give birth to one healthy baby in 1515, but it was a girl, Mary - and in Henry VIII's eyes, this was not good enough. In his desperation for a male heir, he "grew tired" of his wife.
In 1527, knowing Anne wasn't giving into his seductions, he appealed to the Pope to annul his marriage to Catherine so he could re-marry and be with the object of his desire. The debate raged on for six years but his plea was ultimately rejected.
Towards the end of those years, Anne agreed to enter a romantic relationship with Henry VIII. And it would be the news of her first pregnancy with his child that propelled him to act quickly.
In January 1533, Anne and Henry VIII were married in a secret ceremony led by the Archbishop of Canterbury and in June she was crowned Queen of England. The king made the enormous move of breaking away from the Catholic Church and instead, he passed the Act of Supremacy, declaring himself the head of the Church of England. He also had his marriage to Anne declared legitimate, while his marriage to Catherine was made null and void.
Anne gave birth to their first baby in September 1533. The child was, much to Henry VIII's disappointment, a girl. She would grow up to become the notorious ruler of the Elizabethan era, Elizabeth I.
Anne had two more pregnancies but both miscarried. The second miscarriage had been a boy. When Henry VIII caught wind of this, it spelt the beginning of the end of their marriage.
It didn't help that Anne had never been liked by the public. Anne was sharp and confident - qualities that weren't deemed acceptable in women at the time. She was often blamed for her husband's oppressive rule. And with people fiercely loyal to Catherine, Anne was referred to as a social climber and a "whore" for the controversial way their union was formed.
She also quickly fell out of favour with Henry VIII.
Anne was outwardly incensed by Henry VIII's philandering - including with Jane Seymour who he would go onto marry - and he didn't appreciate her growing hostility towards him. His reasoning, of course, was that he needed a male heir. And one way or another, he was going to have one.
He began to see Anne's failure to bear him a son as a betrayal. And when, in January 1536, she miscarried at 15 weeks with a baby boy, he decided the marriage had been cursed. It would take him just four months to orchestrate his wife's execution.
Henry VIII came up with various allegations to secure his wife's beheading, ranging from adultery, conspiracy and witchcraft. She was arrested and imprisoned on May 2, 1536. Five men, including Anne's brother, were killed on May 17, accused of having sexual relations with the queen.
Then, on the morning of May 19, Anne was walked out into grounds of the Tower of London wearing a red petticoat over a dark grey gown. She delivered a short speech, in which she prayed for the king, before being given the "mercy" of beheading by a French swordsman instead of with an axe.
"I pray God save the king and send him long to reign over you, for a gentler nor a more merciful prince was there never: and to me he was ever a good, a gentle and sovereign lord... I take my leave of the world and of you all, and I heartily desire you all to pray for me. O Lord have mercy on me, to God I commend my soul," she said.
Kneeling and blindfolded, the execution was over in a single stroke. She was buried in the grounds of the Tower of London in an unmarked grave.
The day after her death, Jane Seymour's engagement to Henry VIII was announced.
Britain as we know it has been around for centuries upon centuries. And with only 365 days in a year, important events will have happened on just about every day of the year.
Still, it's an interesting coincidence for Prince Harry and Meghan Markle's nuptials to land on the same exact same day, 482 years earlier, that the first ever British queen was publicly executed.
Anne Boleyn's tragically short life, and the terrible treatment she suffered by her husband, should never be forgotten.
But there's certainly room to make much happier royal memories on May 19.
LISTEN: Meghan Markle is the role model young women need.