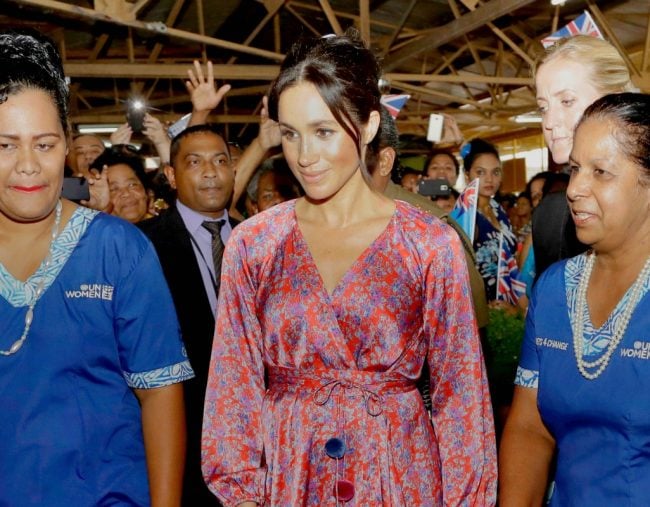 The Duchess of Sussex has been rushed through her visit to an indoor market in Fiji's capital due to concerns about the large crowd that had come to greet her in the relatively confined space.
Meghan chatted with one vendor and briefly greeted others at the Suva Market on Wednesday, where she spent about half of her allocated 15 minutes before she was whisked through by security personnel concerned by the dark, confined space and large turnout.
Meghan managed to meet with some of the female vendors at the market who have been involved in the UN Women's project "Markets for Change." Vendors were selling watermelons, pineapples and other fruit at the market, as well as handicrafts and fans.
A Kensington Palace spokeswoman said her visit was cut short due to crowd management issues.
"She met everyone she was meant to meet and left," a royal aide told the Press Association.
"On advice she was taken out due to crowd management issues."
Meghan, who is four months pregnant, and husband Prince Harry are on the 9th day of their 16-day tour of the South Pacific. Harry was not scheduled to visit the market, and was instead unveiling a plaque at a forest site home to species such as the Fiji tree frog.
Now that the first week of the royal tour watch is over, here are all the highlights.