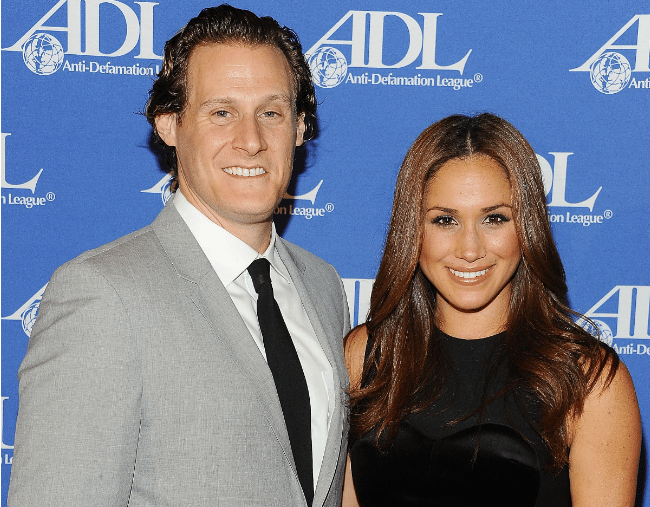 SO.
There could be some more royal scandalous goodness on the way.
You see, Meghan Markle's ex-husband, Trevor Engelson, might be about to tell all.
According to Meghan's half-sister, Samantha Markle, Trevor is upset about the way he has been treated since Meghan met Harry.
"He said he was devastated, that he felt like a piece of gum at the bottom of his shoe," Samantha told The Sun. "He slammed Meg."
In 2011, Meghan and Trevor tied the knot during a beach ceremony.
Royal rebels and the rules they broke…

The pair wed at the Jamaica Inn in Ocho Rios on September 10, in front of family and friends who they'd invited to share in their big day – and three days of celebrations afterwards.
Meghan wore a simple, white, full length, strapless dress with a silver-belted waist and had simple hair (out, wavy) and jewellery (one gold bracelet and her wedding rings) to match. Her groom looked just as relaxed in a white shirt with an open collar and no tie. Her bridesmaids were in peach floor-length dresses.
After the ceremony, the couple reportedly served up a barbecue feast for their 102 guests and danced into the night, getting up on chairs for the traditional Jewish horah at one point.
The wedding was followed by three more days of celebrations for the guests, which included a game of 'wheelbarrow' on the beach.
The couple divorced nearly two years later.
Allegedly, Meghan sent the wedding ring and engagement ring back to Trevor through the mail.
The couple's relationship had been straining thanks to its long-distance status, according to Andrew Morton, the author Meghan: A Hollywood Princess.
Meghan was filming Suits in Toronto, Canada, while Trevor worked on films in Los Angeles.
Yet, according to friends of the couple Morton spoke to, the 37-year-old had ended the marriage "totally out of the blue".
"A wealthy entrepreneur friend claimed the marriage ended so abruptly that Meghan sent her wedding and engagement rings back to Trevor by registered post," the book reads.
Trevor was rumoured to be working on a fictional TV comedy about an American man who has to share custody with his ex-wife, who has became a part of the British Royal Family.
But Samantha told The Sun it might not happen.
"I think because Meg and Harry were inviting half of Hollywood to their wedding, he didn't want to stigmatise himself or his project knowing the political pull that it would have in the industry," she explained.
"I don't even know if it's going forward. We heard that execs were toying with it."