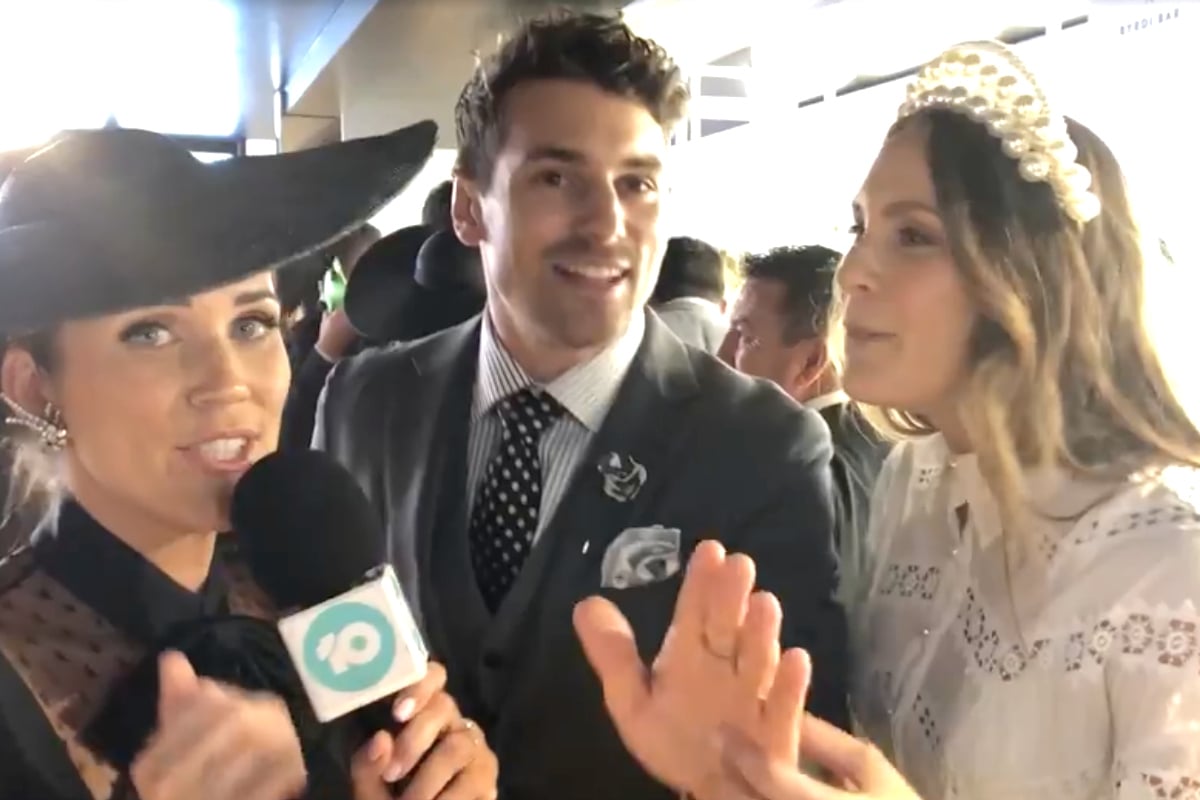 1. Georgia Love just interviewed her ex Matty J and his fiancee Laura Byrne, and yes she got some gossip.
Well. Running into your ex-partner is always awkward, especially if it's with their new… fiancee.
On Saturday at Derby Day, former Bachelorette Georgia Love interviewed her runner up Matty J, who has since become engaged and had a baby with Laura Byrne – who he met on his own season of The Bachelor.
But despite what you might think, it wasn't as awkward as it could have been.
The three were all smiles at the Derby Day festivities as they congratulated each other on their respective engagements, and Georgia and Laura showed off their rings.
Georgia, a journalist for 10Daily, interviewed the loved-up couple about their wedding plans.
"I threw out a spanner yesterday and I was thinking, 'Hey, instead of having a big wedding, why don't we have a surprise kind of engagement type party wedding…" said Matty.
"It's not a surprise when you tell everyone right now," Laura laughed.
Laura said they have no plans confirmed as of yet, saying: "One day it's like, 'Let's just not get married and have a second baby' and the next day it's like, 'Let's have a massive wedding' and then, 'We're eloping' so who knows?"
The pair are also new parents to their first daughter, Marlie-Mae, who was born in June this year.
2. Married at First Sight's Jessika Power has addressed the nature of her relationship with former NRL player Sam Burgess.
Earlier this week, rumours were going around that Married at First Sight's Jessika Power had been sending flirty messages with South Sydney Rabbitohs NRL star, Sam Burgess, who recently split from his wife, Phoebe.