Matt Smith and Claire Foy made different sums for their starring roles on The Crown and now, fans of the show want to even the score.
A petition has emerged, asking the actor to donate his pay difference to the Time's Up Legal Defense Fund.
Neither Matt or Claire – who are close friends in real life – have addressed the issue, but at the time of writing this story, over 25,000 people had signed the petition. Their goal is to receive 30,000 signatures.
According to the petition, "publicly addressing high-profile cases of sexism will also help create greater opportunities for all women – in all careers".
Last week, it was revealed the 33-year-old actress was earning considerably less than her 35-year-old co-star, who played Prince Philip in the hit Netflix series.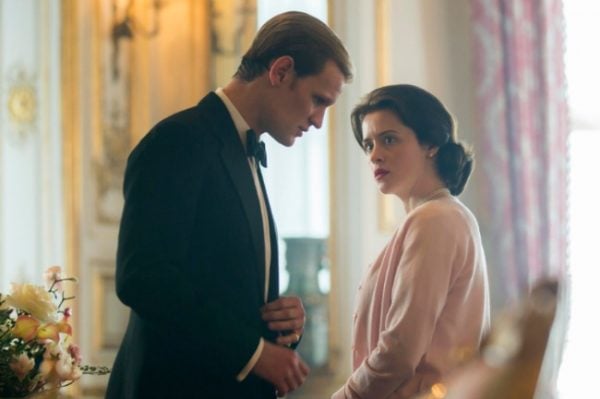 Both Claire and Matt starred in the first two seasons, but have been replaced by Olivia Colman, 44, and reportedly Hugh Laurie, 58, for seasons three and four, as the series follows the Queen in the later stages of her life.
The pay discrepancy between the two leads was revealed at a press junket in Jerusalem, where journalists outright asked the show's producers if Claire was paid the same amount as Matt.
The producers admitted that Matt earned more on the series, thanks to his Doctor Who fame, but wouldn't specify exactly how much he was paid.
Meanwhile, it's been revealed Claire earned US$40,000 per episode.
And even though the show centres on her character, and she picked up a Golden Globe and two SAG Awards for her iconic role, she still continued to earn less than her male co-star.
Fans understandably had some strong opinions on the topic, and went on Twitter to vent it out:
Claire Foy CARRIED your show on her shoulders oh my GOD PAY HER WHAT SHE DESERVES

— emmy (@cIairesfoy) March 13, 2018
Claire Foy got paid less than Matt Smith for The Crown.

THE GODDAMN QUEEN CAN'T EVEN GET EQUAL PAY

— Jill Pantozzi ♿ (@JillPantozzi) March 13, 2018
THE CROWN IS LITERALLY ABOUT THE CROWN AKA THE QUEEN AND YET THE WOMAN WHO PLAYS THE QUEEN WAS PAID LESS THAN THE MAN WHO PLAYS HER HUSBAND. https://t.co/V3h3d2fcdT

— Lauren Rankin (@laurenarankin) March 13, 2018
time to eat ben & jerry's while i rage tweet about claire foy being payed less for the next 5 hours

— kat (@claire_foy) March 14, 2018
The show's producers have clearly recognised the error of their ways though, and have vowed to pay Olivia more money when she takes over the role.
"Going forward, no one gets paid more than the Queen," said producer Suzanne Mackie, as reported by Variety.
What we really want to know though, is will they be back-paying Claire? Probably not.
Vanessa Kirby on becoming Princess Margaret.