At first glance (and yes, the second, third and fourth glance, too), Nigella Lawson's creamy spaghetti alla carbonara recipe looks pretty darn delicious.
Since sharing her recipe for the Italian dish on her official Facebook page, it's been shared and liked almost 1000 times.
But it's not the fact that it's so tasty that has people talking. It turns out that Nigella's carbonara is…not really carbonara at all.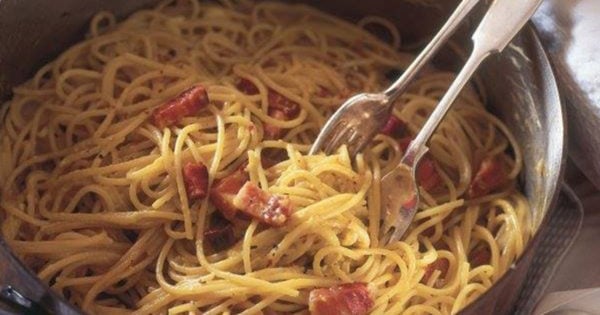 You see, Nigella's recipe calls for dry white wine and double cream. Which, according to Italian tradition, are two forbidden ingredients when it comes to the famous pasta dish.
It's something her Italian fans were quick to notice, and even quicker to call the TV chef out on.
"L'arte della cucina Italiana non è un modo di pensare," wrote one person, which translates to: 'The art of Italian cooking is not a way of thinking.'
Another passionate fan said: "Nigella you are a wonderful woman but your recipes are the DEATH of Italian recipes, literally! NO CREAM IN CARBONARA NEVER, only eggs."