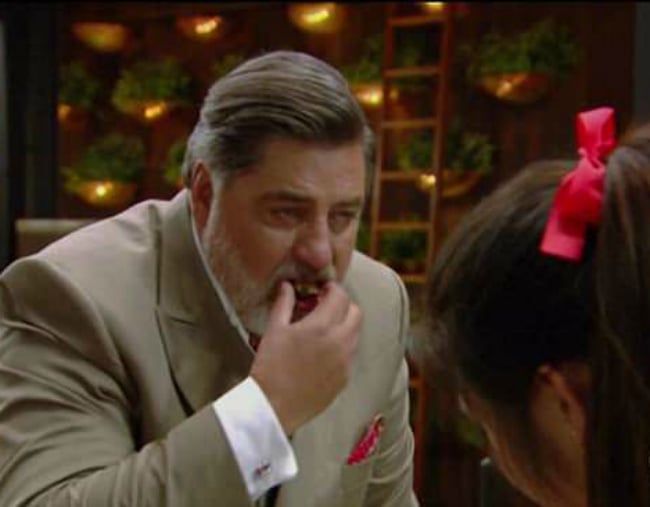 Masterchef fans were left perplexed on Sunday night when Matt Preston, well, kinda sorta cheated.
Okay, maybe not, because he is a judge, not a contestant. But surely, surely a rule was broken at some point when Matt decided to taste a dish at a contestant's bench.
As any keen Masterchef viewer will know, in most challenges, the judges taste all the dishes, but in a Mystery Box challenge, they're only tasting three (which frankly seems like a waste).
But in Sunday night's episode, Matt managed to sneak in a fourth tasting.
The challenge was for the cooks to highlight bread as their hero ingredient and contestant Jess Liemantara had created an Indonesian fried bread sandwich with plum sauce.
However, before it was finished Matt sashayed over to her bench and asked about her "crazy kind of fried bread sandwich".
Watch the moment Matt decides to take a bite of Jess' sandwich. Post continues after video.
"I'm loving it. It's unlike anything else you've cooked before. And I think that's brilliant. And I think it's exciting. Should we have a look? Let's have a look," Matt said to Jess.
And then – to the surprise of viewers – the food critic decided to "look" with his tongue and have a taste.
"Let's just taste it together. Let's see."
And it wasn't like Matt was just having a spoonful of someone's sauce or lick of their cake batter – this was the judge essentially eating a finished dish.
After taking a bite and mumbling happily, Matt told Jess he liked it.
"I'm so proud that you're doing something totally different from what you normally do. That's really good. And it tastes delicious."
On Twitter, one fan asked: "Isn't Matt tasting Jess food before cheating?"
Matt beat the system, he couldn't choose between Jess' or Ben's dishes so he tried Jess' beforehand (and played her) ???????? #MasterChefAU

— Nora (@Norajaxon) June 17, 2018