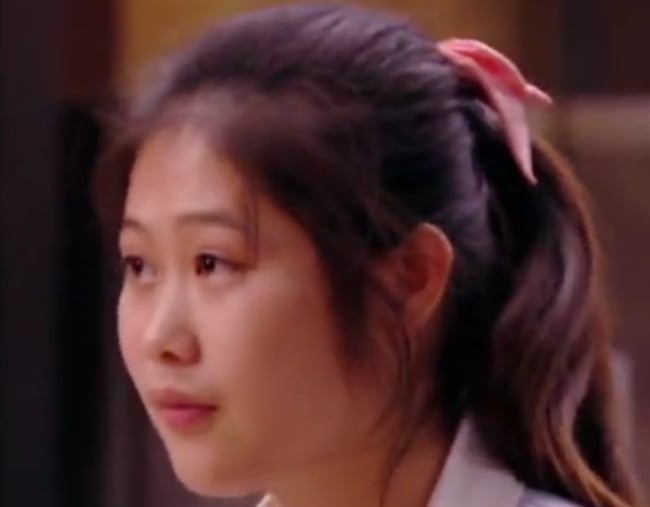 On Sunday night's episode of Masterchef Australia, contestant Jess Liemantara's mother made a comment that completely divided viewers, with some calling it a term of endearment and others labelling it 'fat-shaming'.
The mother appeared on the show to support her 19-year-old daughter after it was announced the families of the contestants would arrive to watch the finals on the cooking show.
"Oh I'm so proud of her, and she looks very healthy," the mother said.
Watch the divisive Masterchef segment in the video below.

Elaborating on her mother's comment, Jess said "She called me chubby. I'm not sure what it means."
"I think a lot of mums always do that to their kids. 'You look good. You look healthy'," she continued.
While the contestant seemed unphased, or perhaps accustomed, to the comment, fans on social media immediately reacted.
Nothing like calling your daughter 'chubby' on national tv. Especially when she's tiny. #MasterChefAU

— Nez (@fraggle73) July 15, 2018
Pretty weird seeing what amounts to fat shaming on #masterchefAU particularly from a parent. Also @_jesslemon_ is pretty cute. No need to air this commentary from her mum. More harm than good.

— blair jensen (@blair_jensen) July 15, 2018
#MasterChefAU Jess's Mum not far from this tonight with her fat shaming and critiquing of poor Jess ???? pic.twitter.com/xLHDmN5n8J

— Ariadne Quinn (@ariadne_quinn) July 15, 2018
Jess's mother fat shaming her on tv? And I mean – Jess!?! Fuck off, just became Jess' biggest fan. #MasterChefAU

— Emma Cooper (@emmackat) July 15, 2018
With a mum like Jess's who need twitter for fat shaming?#MasterChefAU

— Catalina (@candycandyilove) July 15, 2018
Others suggested that the controversy is culturally misinformed, and that the "healthy" comment is one of endearment within Asian families.
Aah, Asian parents …. "You look chubby!" "You've put on weight" and it translates to "I love you" ???? #MasterChefAU

— Elina Ismail (@elinaistweeting) July 15, 2018
To everyone hating on Jess's mum for calling her "chubby", please stop! It's a typical term of endearment of many elderly Asian folks. OTOH to tell someone they've "lost weight" would be a sign of concern. And yes it used to drive me crazy too. #MasterChefAU

— Keith Tan (@hkeithtan) July 15, 2018
A study in 2016 found that comments about weight from parents, positive or negative, are incredibly harmful. The study, titled "Don't eat so much: how parent comments relate to female weight satisfaction", is from the journal Eating & Weight Disorders.
Researchers asked 501 young women between the ages of 20 and 35 questions about their body image. They also asked them to remember how frequently their parents made comments about their weight. The women who remembered their parents' comments said they felt the need to lose a significant amount of weight.
The study also found comments on kids' weight had repercussions for years afterwards, as children often internalised them and struggled to let go of negative feelings. Down the track, in some this led to unhealthy dieting behaviours, binge eating and other eating disorders.
If this article has raised any issues for you, you can contact The Butterfly Foundation for support on 1800 334 673.