Picture this: You're a trainer at an AFL club. A player comes off-field complaining of upper thigh discomfort. It's your job to work on him, so that's what you do. End of story.
Except there's a cameraman who has filmed you working on that player at such an angle that it looks like you could be touching him inappropriately.
You're not. The cameraman knows that. The player knows that. And yet the footage is spotted by a fan who thinks it's funny to upload it to YouTube dubbed by Barry White's 'Can't Get Enough Of Your Love'.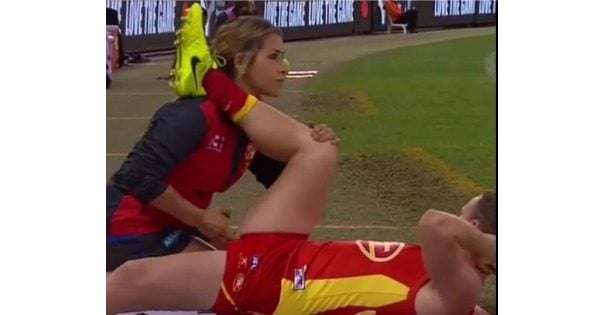 Suddenly you doing your job has turned into a viral video and the target of appalling sexual slurs.
That was the reality for one Gold Coast Suns employee, who found herself the subject of sexual comments when she performed a treatment on player Brandon Matera during the Suns match against Carlton on Saturday night.
The footage was later uploaded to YouTube, and has since also been basis for a Daily Mail article titled 'Do I HAVE to go back on? Eye-popping moment female physio works on injured footballer on the sidelines during a match... and he goes on to play the best game of his career'.
Cue comments like, "I heard it's called a lookaway handball" and "That's not how my prostate exam went...".
Listen: Miki Agrawal calls herself a She-E-O.

Representatives from two allied health associations have slammed the "completely inappropriate" coverage.
Myotherapy Association Australia President Anna Yerondais said the trainer receiving attention for just doing her job is "ridiculous".