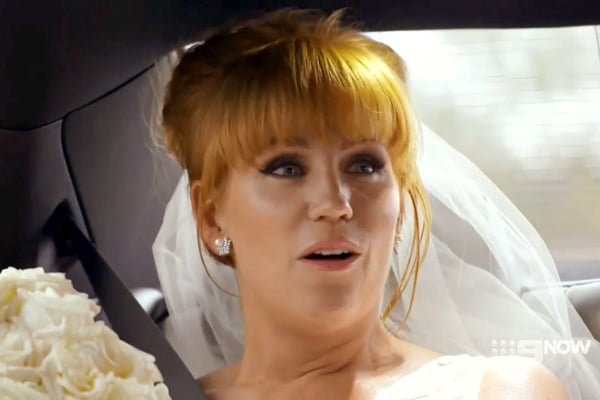 To catch up on all the Married at First Sight 2019 recaps and gossip, check out the Twins recaps, visit our MAFS hub page and join our 'Married at First Sight Lols' Facebook group. We've got you covered. 
The sixth season of Married at First Sight premiered on Monday night and we've already been tricked into believing that this time, love will actually prevail.
You see, it's Jules and Cameron. The entrepreneur and former professional sportsman instantly fell for each other when they met at the altar, and all anyone wants is for them to get real married and live happily after.
It seems that we may, however, have an early spoiler on our hands.
According to the Daily Mail, Jules and Cameron were spotted together with friends and family at Sydney's The Bellevue Hotel where it was believed the cast held a screening party.
The photos show Jules and Cameron with Jules' arms around Cameron in a position that didn't look coerced or staged – meaning they're just DEFINITELY still together.
Watch the moment Jules and Cameron meet each other for the first time:
According to the publication, they looked "thoroughly loved-up" and Jules couldn't wipe the smile off her face.
While we've only been introduced to two of the couples so far – one of which included Ivan, Cyrell's brother-in-law who compared Nic's testicular cancer to having the flu – Jules and Cameron seem to be the most compatible.
Jules is a 36-year-old salon-owner who's found herself unlucky in love, while 34-year-old Cameron – a professional cricketer turned cricket coach – has also put his career ahead of his love life. They've both experienced heartbreak, they both really want kids and they both seem to like each other.
But now back to the drama.
According to the Daily Mail, fellow bride Melissa was also seen at the screening party. Her fake husband Dino, however, was no where to be seen.
Of course with the whole season in front of us, we shouldn't be jumping to conclusions. There's still the possibility of partner swaps, fake divorces and controversy we can't even imagine to come.
We can't wait.
Have you been watching the latest season of Married at First Sight? Which couple are you rooting for? Tell us in a comment below!