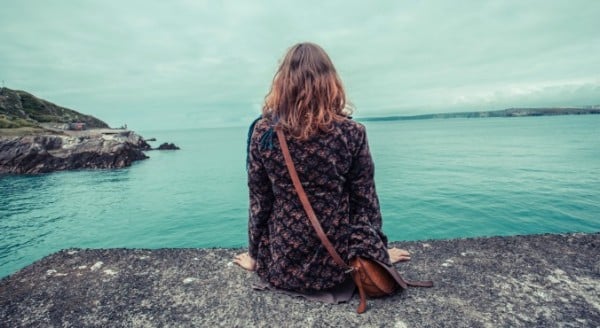 Two months ago, I filed for disability for bipolar disorder. I had spent weeks dangling from tiring hands over a spiky precipice — or so it seemed.
RELATED: Ruby Rose reflects on her struggles with her mental health.
There were days of crying at my desk, days of inexplicable panic attacks in the face of a normal workload. Days began with never wanting to see the inside of my bland cubicle again, and ended early with the emailed excuse of a personal emergency or sudden illness.
After too many of these days over too many weeks, I sent an email, made a call, and succumbed to the fact that bipolar disorder was standing firmly between me and a normal 9-to-5 life.
At first, I felt free — I didn't have to continually look for ways out — I'd found one.
RELATED: 6 signs you're stressed (and what you can do about it).
Then came the paperwork, the probing phone calls asking about how often I had cried or showered, the never ending demand for proof of brokenness that became normal, but never any less anxiety-inducing. (Post continues after gallery.)
It took weeks to get an appointment with my psychiatrist. More weeks until there were any medicinal effects of note. All the while, I was a willing test subject, but my time at home felt purposeless.
I wandered from Twitter chats to writing to job applications, even to trying my hand at coding, but I still never felt a sense of completion or satiation.
Related: The 7 physical signs of stress you might be missing.
In retrospect, I was spreading myself too thin. I didn't know precisely what I wanted to get out of my time away from the office. Of course, the goal was to improve my mental health, but that was safely in the hands of my psychiatrist and therapist.
All I needed to do in that regard was try out each different medication and suggestion given to me. As for the rest of my time, I was lost. (Post continues after gallery.)
Of course, there were groceries to buy, walks to take, magazine pieces to edit, and podcasts to record — but that was all normal fare.
What wasn't was the absence of the direction a regular job had given me — the series of monotonous yet clear-cut tasks handed down to me by a supervisor. If I wanted that for myself at home, I would have to build it from scratch.
RELATED: The DSM's most controversial new disorders.
It began as a series of blocks of time: writing in the morning, then a walk. A nap in the afternoon followed by coding exercises. Baseball games at night with a smattering of Twitter chats.
But soon this felt too hectic, overly scheduled, and often impossible to keep up with in the face of swaths of fatigue, anxiety, and depression.