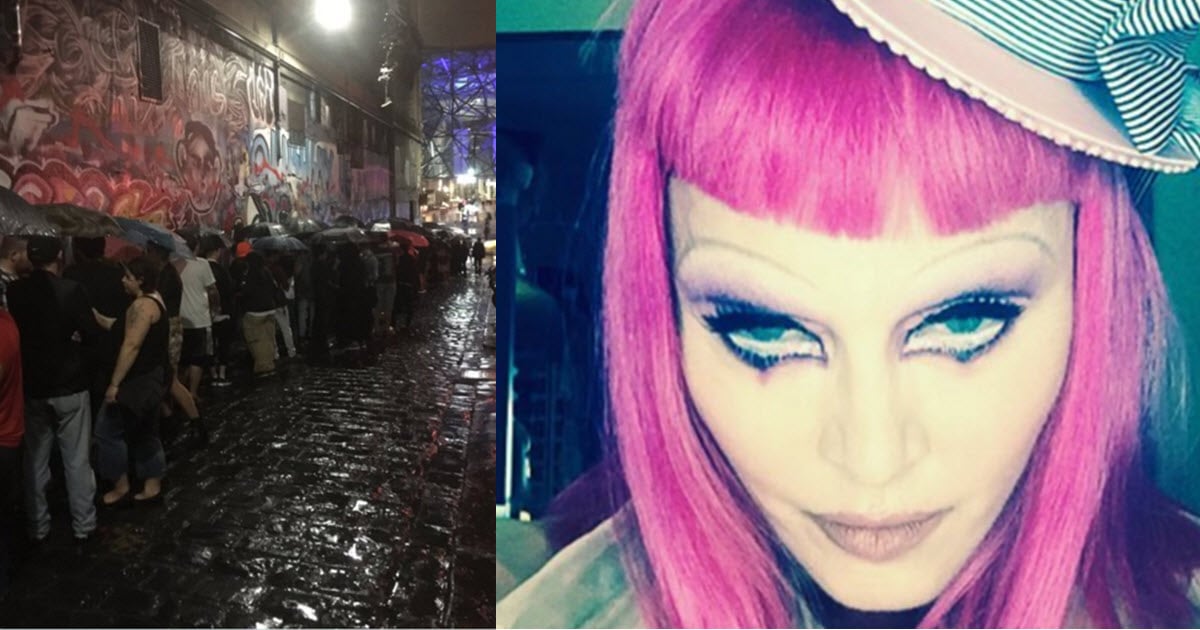 Madonna, 57, put on a much-hyped free concert last night in Melbourne last night, but didn't take to the stage until more than three hours after she was supposed to start.
Fifteen hundred fans waited amiably in the pouring rain for doors to open at 8:30pm.
At 8:50, Madonna's manager Guy Oseary came out of the venue and told the waiting audience Madonna would not be on stage until 11:30pm. As it was, she finally began at about midnight.
The Tears of a Clown show was for devoted members of Madonna's fanclub and selected Telstra customers ahead the Australian leg of her Rebel Heart tour which begins at Rod Laver Arena on Saturday.
Among the frustrated hordes was Fifi Box, who had to get up for her breakfast radio gig just hours after Madonna finished the show at 3am.
Still waiting for Madonna…gotta get up in 3 hours!!#TearsOfAClown #Madonna pic.twitter.com/SnIm3KYuqr

— Fifi Box (@fifi_box) March 10, 2016
When she finally emerged, at midnight, she was dressed in a clown outfit complete with stripey socks, and even rode around the stage on a trike. Despite the slapstick antics, she clearly had serious issues on her mind, and at one point broke down on stage over her son, Rocco. While she was in Melbourne, Rocco's father Guy Ritchie was attending the High Court in London as lawyers for both parties discussed Rocco's future living arrangements.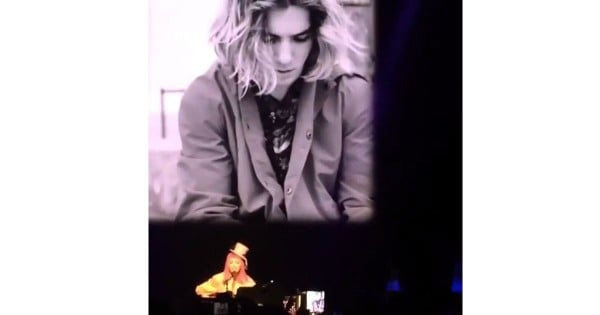 The teenager is currently living in London with Ritchie and his wife Jacqui Ainsley, 33. He was on Madonna's Rebel Heart European tour last year when he absconded to London to live with his father.
Crazy for Queue #Madonna #tearsofaclown pic.twitter.com/0vXS9YPMtz — cameron adams (@cameron_adams) March 10, 2016
The delay was reportedly due to last-minute rehearsals, with Madonna practising the show right up until the doors opened.
Watch Madonna clowning around before the show… Post continues after video.
"I want to make a disclaimer," she told the crowd, reports News.com.au.
If anyone thinks they came here to see a finished final show, there's the door. This is some brand spanking new shit. I don't know if you like it raw.

I've had this idea in my head for this show Tears of a Clown which is a combination of music and storytelling. Because at the end of the day I do think of myself as a story teller.

But it's rough as fuck, so bear with me and give me all the support you can. It's from the heart. I chose to debut this work in progress, this rough rehearsal, here in Australia because I feel so bad about cancelling on you guys the last time. I'm sorry. You've been so patient, you waited for so long, I feel like I owe you a present, so this is your present.
Some fans left in disgust when there was still nothing doing after 11:30pm, but those who stayed got to see a truly unique show. A few diehard fans had been camping out since Monday night (inexplicably, since all attendees had tickets with their names printed on them to prevent scalping), so I guess another few hours wasn't too much of an ordeal.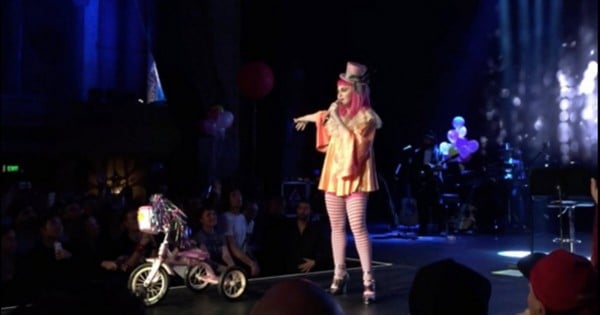 And despite the long, rainy wait, the show — a mix of comedy, music, and storytelling — was reportedly incredible. Completely nuts, but incredible.
Madonna played many songs from her back catalogue that she's never performed before, and had no back-up dancers and a diminished band, making for an intimate and absorbing performance.
Everyone is gonna want a review of this Madonna concert.So here u are. When a super mega icon make themselves vulnerable, it's perfect. — Em Rusciano (@EmRusciano) March 10, 2016