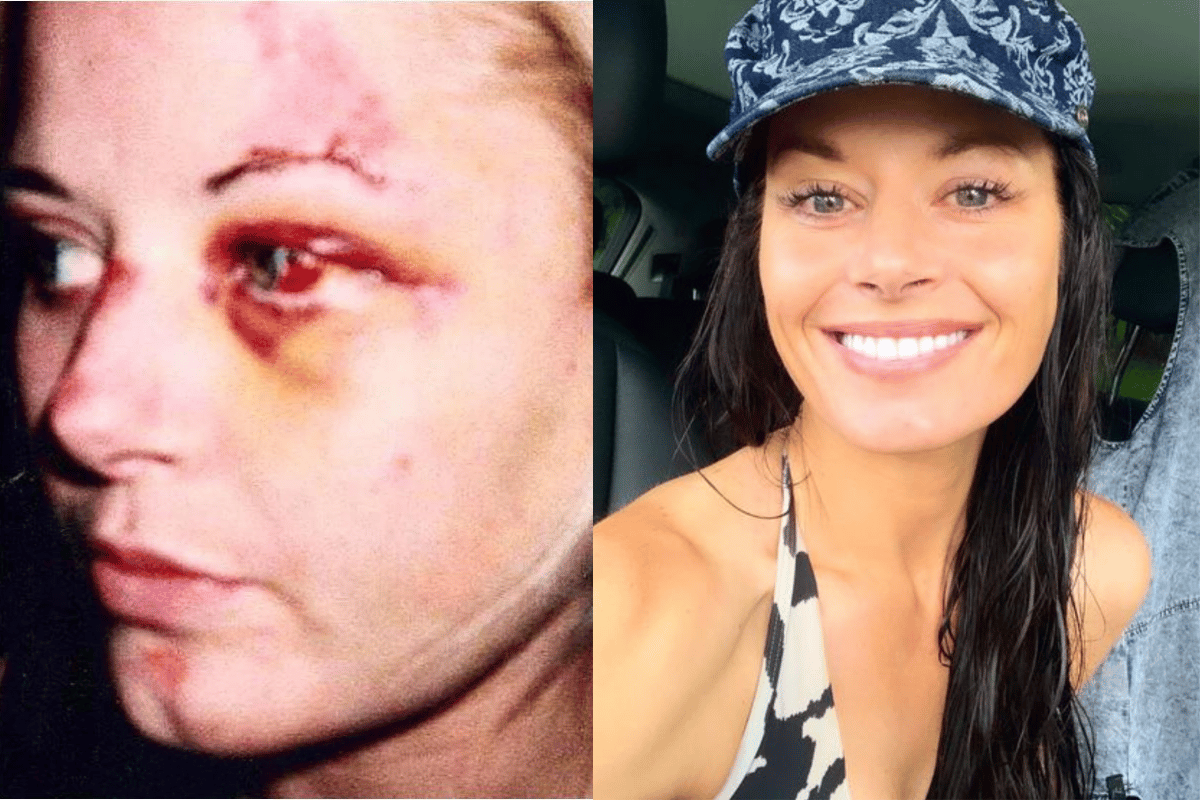 This post deals with suicidal ideation and might be triggering for some readers.
In 2002, Madeleine West had finished a long day filming Neighbours. She was walking down Oxford Street in Sydney after work, on the lookout to grab some snacks.
Twenty minutes later, she was loaded with everything you could need for a late-night meal, from cereal to chocolate to corn chips. Satisfied, she ventured back to her hotel.
It was at this point that her life changed forever. She was hit by a bus.
Reflecting on the traumatic incident 20 years later on Mamamia's podcast Restart, West labelled it as "the most unexpected restart of my life".
Listen to Restart: The day Madeleine West was hit by a bus. Post continues after audio.
On that fateful day when West was hit by the bus, she was actually standing on the pavement, when the bus hit her "square in the head". 
"The point of impact, I was thrown a couple of feet, and then landed on my face and skidded a few feet more along the pavement. It required a skin graft from my butt and I had burst all the capillaries in my eyes," she said on Restart.
She sustained a number of serious injuries, some of which are visible in a graphic photo she shared to Instagram two years ago to commemorate 18 years since her near-death experience.
"I'm celebrating 18 years since being hit by a bus in the head. Always wanted to be the kind of girl who stopped traffic. Just preferably not with my face."
The photo was taken on West's road to recovery, "but doesn't reveal the three skull fractures, leaking brain fluid, the cerebral hemorrhage and hematoma, the busted teeth, broken capillaries, the wounds that wouldn't knit, the endless nights of excruciating pain, the months of therapy to regain gross motor skills".
When it came to losing her gross motor skills, it left West unable to speak properly. She also couldn't feed herself, and she lost her short-term memory. The pain of the skull fractures healing was "monumental" and incredibly hard to describe, West said on Restart. And the icing on top of the cake was the fact her wallet was stolen while she lay in a critical condition in the gutter after the incident.
But at the time, one of the main things that West couldn't stop thinking about was her appearance. Once her management team was notified that West was in hospital, they immediately asked for a plastic surgeon to perform the procedure.
"My face had swollen to twice its normal size, and it was completely black and blue. I'd lost all the skin down one side of my face and half the teeth in my upper jaw. And in that moment, I wanted to die. I thought everything I had worked for - I'd wanted to become an actress since I was five years old - was gone. Down the toilet. I wanted a nurse to come in, slip me some sleeping pills and just let me slip away. That's how important my appearance was to me."