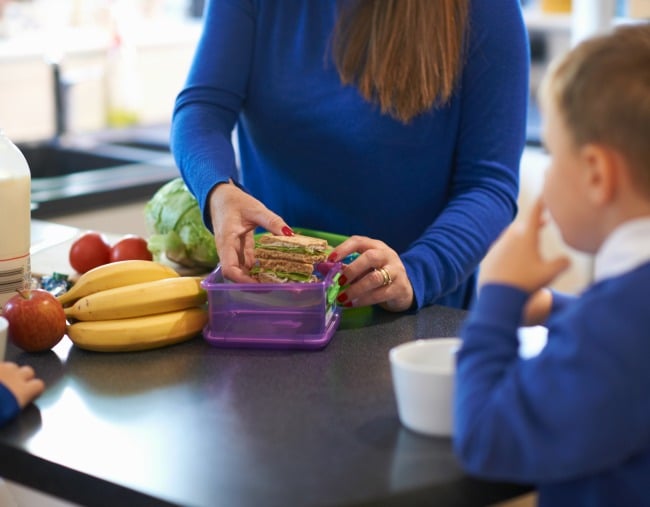 Last year, my oldest son started school. I was excited and a little apprehensive about what the year held for him. Unfortunately, this excitement wore off pretty quickly.
On day two, my son received a card in his lunch box – "We love your healthy lunch" and a newsletter stating the school rules around what can be eaten at each lunch break.
My bubble of food joy and peace burst right there and then as damage-control kicked in.
I ended up writing a letter to the school about my experiences as a parent and an Accredited Practising Dietitian. I offered actionable suggestions about how the school could support my child and the school children around food, eating and nutrition.
Here is the letter I wrote:
Dear Principal,
I am an Accredited Practising Dietitian. I am also the mother of a child attending your school.
On the second day of school my son received a card stating "We love your healthy lunch". I also noted in a newsletter that "Only healthy food is allowed to be eaten at 1st lunch break. Treats and left-over food can be eaten at 2nd lunch break."
Whilst I understand that "schools have an important role in promoting healthy eating and physical activity to students and providing an environment that supports a healthy lifestyle", as noted in the Smart Choices – Healthy Food and Drink Supply Strategy for Queensland Schools, I have concerns about the approach the school is taking around educating parents and students about food and nutrition.
Judging food as 'healthy' and 'treats' is assigning morality to food, which is a typical dieting behaviour leading people to feel a sense of fear, guilt and shame, particularly around their weight, body shape or body size. These feelings can result in individuals valuing themselves in response to what they have in their lunch box and what they have eaten.
Personally, my son was proud to receive the "We love your healthy lunch" card in his lunch box and naturally viewed his peers as less superior for not receiving a card. He now views foods as 'healthy' and 'unhealthy' and is fixated on receiving another card. As a concerned dietitian and mother, I am now working to repair the damage this school nutrition guideline has caused my son and our family. I am particularly concerned that if the next round of cards are given out and my son does not receive a card he will become distressed.
All children are worthy, regardless of the choices their parents make around food and nutrition. I feel the card system judges food and eating in attempts to educate parents through their child.
Food is neither 'good' or 'bad'. Food is food with varying nutrient contents and can all nourish the body, mind and spirit. A variety of food is the key to health and happiness, as food is not purely eaten based on its nutrient content when biologically hungry. Food also serves a role socially and culturally.